Are you looking for the unbiased 'The Tomorrow War' Movie Review? if so, you landed at the right place here we have cover, everything related to the movie.
So let's get started. 🤩
Unlike anyone would have expected, the movie "The tomorrow war" emphasized a lot on 'family values and importance. The movie is available to watch online on Amazon Prime Video. Here's our take on the movie.
The Tomorrow War movie review: Is tomorrow when the war began on Netflix?
What Is The Plot Of The Tomorrow War?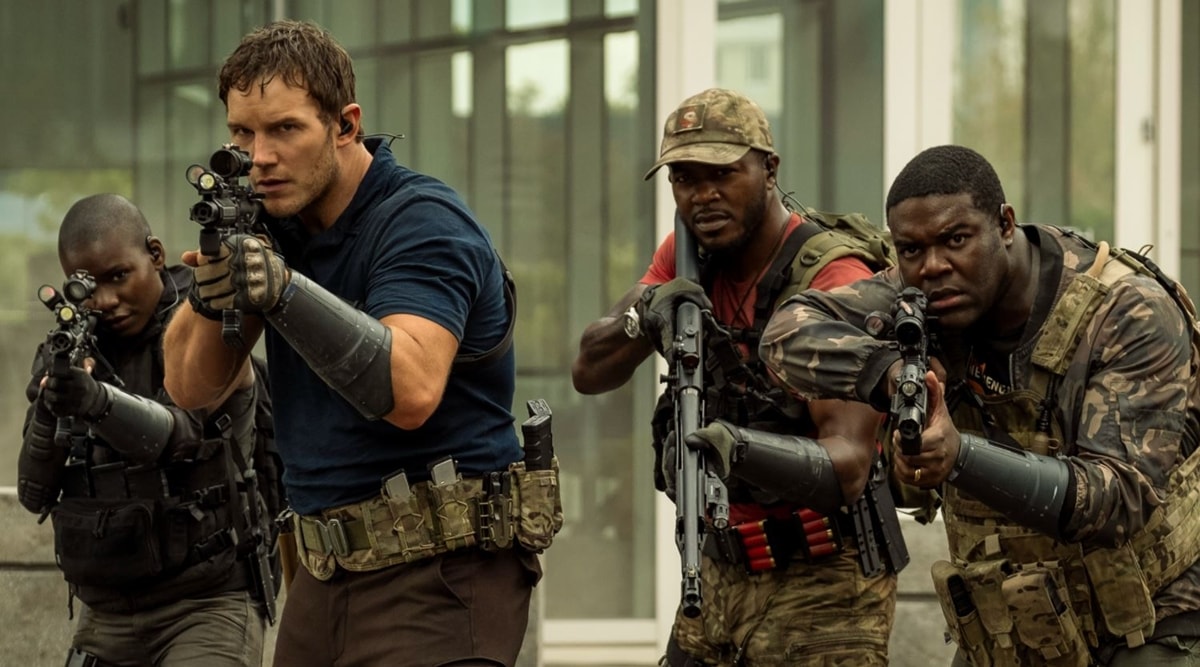 The story starts in the year 2022 and shows the live broadcast of the football World Cup. During this telecast, suddenly, a strange blinding light appears in the middle of the football field.
The light later turns out to be the result of time travel that has brought soldiers from the future. Lieutenant Hart, the woman leading the soldiers, says, "We are you, 30 years in the future. We are fighting, our enemy is not humans, and we are losing."
The future humans tell the present humans that 30 years from now, humanity will be wiped out. And the total Earth population will be declined to a mere five hundred thousand.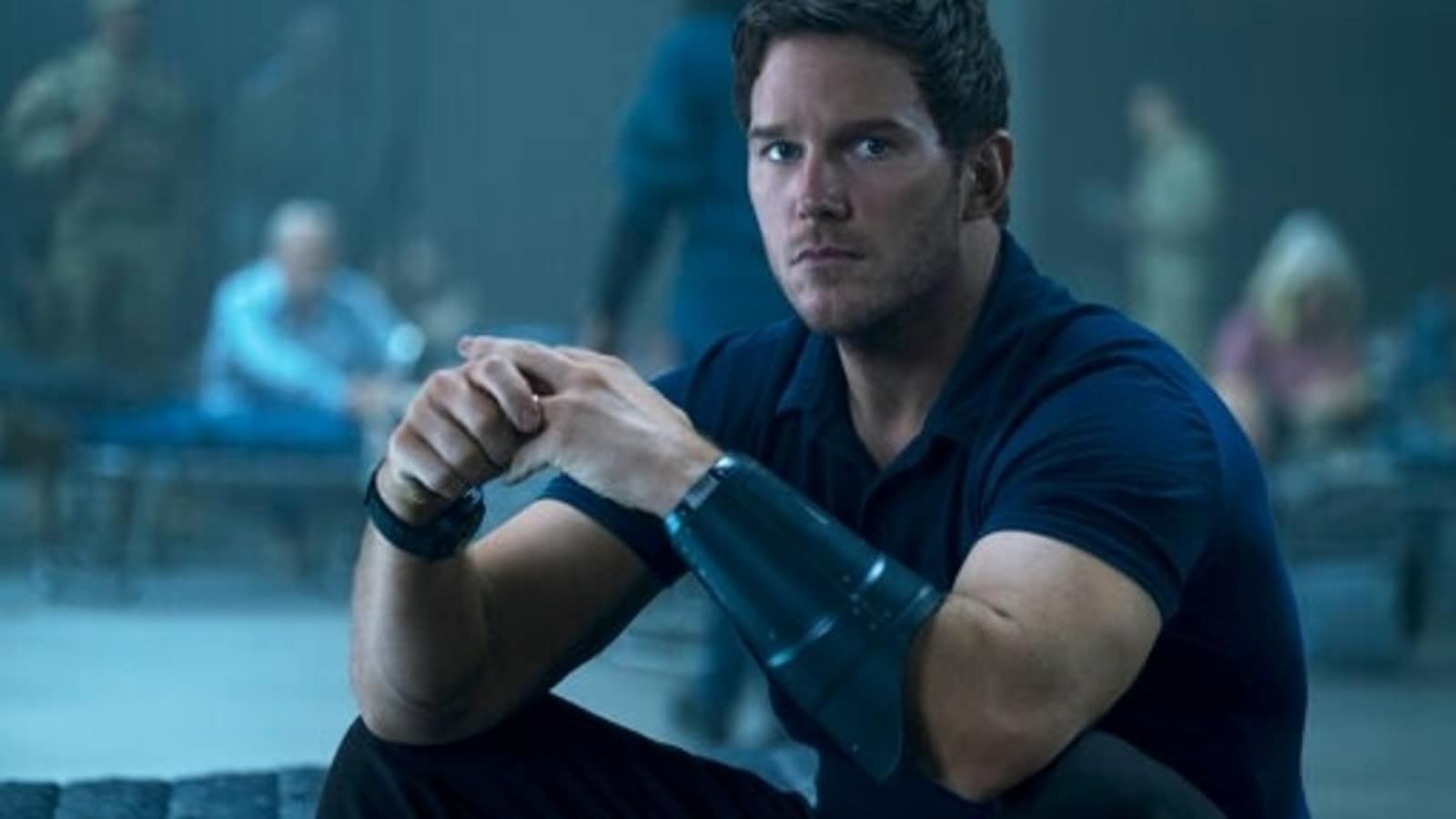 As the movie progresses, we learn that people are chosen and sent into the future through a random but conscription process.
A machine is put on their hands that is connected to their nervous system. If the device is working, then the person is alive. And after the completion of this 7-days tour, if anyone manages to survive – wherever they may be – they will be transferred back. 
However, a 'time paradox' in the movie states' two same people of different timelines cannot exist simultaneously.' In layman's language, this would mean that the people from the present going into the future must be dead at that time to do the time jump. 
View this post on Instagram
Dan Forester – played by Chris Pratt – our protagonist, an ex-military veteran and now a high school science teacher, is chosen for drafting the time-traveling process. When he tells his wife about this, she asks him to get the machine off his hand.
And the only person who can possibly do this is Dan's father. But Dan's relation with his father is not really ideal. Still, he goes to talk to him, and we get a glimpse into why his relationship is so bad with his father.
The idea doesn't work out, and he has to go to the future. There he finally sees the 'white spikes,' the aliens responsible for human extinction.
Most of the people die in the initial encounter with the white spikes. But Dan and a few others manage to survive. He then comes face to face with the commanding officer, who also happens to be his daughter, Muri Forester – played by Yvonne Strahovski – now all grown up, beautiful and smart. 
Muri does interact with his father but still keeps her distance from him. Dan, unable to understand this behavior of hers, asks her why she is doing so.
He finds out that he did the same thing to his family as his father did to him. He fell apart from them, divorced his wife, and then died in a car accident when Muri was 16 years old.
After knowing this, Dan's whole perspective towards life and his family, changes. 
Towards the end of the movie, he and Muri get close, and she develops a toxin that can kill all of the white spikes. However, they get attacked by the white spikes before they can use that toxin.
And around that time, Dan's trip of 7 days comes to an end, and he comes back to the present. Muri gives him the toxin and asks him to mass-produce it in his timeline and destroy all aliens before they can rise and exterminate humanity.
Dan doesn't want to leave Muri there because if he successfully stops the rise of white spikes in his time, the future will change and that Muri will cease to exist.
But just after this scene that Muri gets eaten by the white spikes, and Dan comes back. With the help of his dad – played by J.K. Simmons – and some other friends (Dorian, Charlie, Lieutenant Hart), he finds the aliens and exterminates them with the help of the toxin that they have mass-produced.
The Tomorrow War (2021) – Full Cast & Crew – Storishh
This action, sci-fi, is directed by Chris McKay, and the main cast includes – Chris Pratt as Dan Forester and Yvonne Strahovski as Muri Forester. The supporting cast included – J.K. Simmons, Betty Gilpin, Sam Richardson, Edwin Hodge, and Jasmine Matthews. 
Chris Pratt did a good job at portraying the character of Dan. But of course, there was room for improvement. At some point in the movie, the performance could have been improved.
But otherwise, he gave what would be expected of the 'Starlord,' and the performance was fairly good.
Yvonne Strahovski also did a great job as Muri Forester. She never let go of the character. While sharing the screen with Chris as his daughter, she was pretty convincing.
This can be pretty hard given that if these two would be the main cast in any other story, they would surely have a romantic angel. 
J.K. Simmons as James Forester – Dan's dad did a fantastic job. This would probably be one of the few times you would see such a cool dad.
And his portrayal of the character was great too. Guilt, sadness, anger and happiness, even sarcasm, all emotions were on point.
Jasmine Matthews as lieutenant Hart, Edwin Hodge as Dorian, Sam Richardson as Charlie, and Betty Gilpin as Emmy Forester all did a pretty convincing and good job.
Though all of them didn't have much screen time, they were undoubtedly important for developing the story. However, most of the focus is on Muri and even more on Dan.
| | |
| --- | --- |
| Directed by | Chris McKay |
| Writing Credits | Zach Dean |
Cast in credits order of appearance, and character name verified as complete
| | |
| --- | --- |
| Chris Pratt | Dan Forester |
| Yvonne Strahovski | Colonel Muri Forester |
| J.K. Simmons | James Forester |
| Betty Gilpin | Emmy Forester |
| Sam Richardson | Charlie |
| Jasmine Mathews | Lt. Hart |
| Edwin Hodge | Dorian |
| Ryan Kiera Armstrong | Young Muri Forester |
| Keith Powers | Major Greenwood |
| Mary Lynn Rajskub | Norah |
| Mike Mitchell | Cowan |
| Jared Shaw | Tank |
| Alexis Louder | Diablo |
| Rose Bianco | Rose |
| Seychelle Gabriel | Sgt. Diaz |
| Alan Trong | Lt. Tran |
| Chibuikem Uche | Lt. Ikemba |
| David Maldonado | Dodd (as Dave Maldonado) |
| Kasandra Bandfield | Lawyer Draftee |
| Gregory Weeks | Hard Working Draftee |
| Keith Brooks | Broken Back Draftee |
| Rad Daly | Sad Draftee |
| Jim Palmer | Truck Driver Draftee |
| Dean Feldman | Teacher Draftee (as Dean Alan Feldman) |
| Desiree Supernaugh | Tank Top Draftee |
| Dave Parra | Draftee Angel |
| Michelle Rivera | Jodie (as Michelle Rivera-Huckaby) |
| Kiley Casciano Davis | Yoga Teacher Alexis |
| Barb Willis | Draftee #1 |
| April Knox | Draftee #2 |
| Matthew Cornwell | Frank |
| Patrick Malone | Kyle |
| Clark Sarullo | Traci |
| Ashlyn Moore | Katie |
| Patrick Fleming | Ben |
| Alicia Cuthbertson | Concerned Mom |
| Terrence Smith | MEPS Tech Officer Sam |
| Felisha Terrell | Conscription Officer Paveza |
| Gissette Valentin | Conscription Officer Dean |
| Nikki Mejia | Viper One Pilot |
| Roger Barton | Viper One Radio |
| Eric Graise | Veteran Terry |
| Zachary James Rukavina | Veteran Palo (as Zachary Perez-Rukavina) |
| Angel Giuffria | Veteran Susan |
| Seth Schenall | Martin |
| Piper Collins | Chelsea |
| Joshua Israel | Jayden |
| Amere Stewart | Tina |
| Caden Graham | Ted |
| Mia Naipaul | Jump Command Engineer |
| DJames Jones | FOB Army Officer (as D. James Jones) |
| Christina Bach | FOB Soldier (as Christina Bach Norman) |
| Andrea Andrade | Medic |
| Gary Weeks | News Reporter #1 |
| Gabrielle Byndloss | News Reporter #2 |
| Kenneth Israel | News Reporter #3 |
| Melissa Saint-Amand | News Reporter #4 (as Melissa Saint Amand) |
| La'Toya Kirkland | La'Toya |
| Amanda Hatfield | Samantha |
The rest of the cast is listed alphabetically below:
| | |
| --- | --- |
| Shane Berengue | Military (uncredited) |
| Gloria Bishop | Draftee (uncredited) |
| Matthew Byrge | Main Guard Jump Control Room (uncredited) |
| Conrad Carpenter | Raptor 1 Pilot (uncredited) |
| Shawn Ray Cartel | Intelligence Soldier (uncredited) |
| Adriana Catalano | Future Soldier (uncredited) |
| Christopher Cocke | Draftee (uncredited) |
| Nathan W. Collins | Future Special Forces Soldier (uncredited) |
| Nic Curtis | Protestor (uncredited) |
| Keith D Dooley | Future Soldier (uncredited) |
| Chris TC Edge | Special Forces Sgt Major (uncredited) |
| Jason m Edwards | Officer (uncredited) |
| Justine Edwards | Future Soldier (uncredited) |
| Darin Ferraro | Military Trainee (uncredited) |
| Reese Giles | World Cup Fan (uncredited) |
| Austin Handle | Future Soldier (uncredited) |
| Clyde C Harris | Larry Sutton Draftee (uncredited) |
| Quasheem D. Herring | Futuristic Soldier (uncredited) |
| Chris Holloway | Lieutenant Marks (uncredited) |
| Rodney L. James | Draftee Survivor (uncredited) |
| Shiquita James | Hero Veteran (uncredited) |
| Stacy Johnson | Sister (uncredited) |
| Christine A. Jordan | Protestor (uncredited) |
| Jeannie Ledford | Future Military (uncredited) |
| Damon LeGrand | Protestor (uncredited) |
| Eeryn Falk Lubicich | Draftee (uncredited) |
| Andrew S. McMillan | U.S. Army Specialist Butte (uncredited) |
| Bryan Metoyer | Draftee (uncredited) |
| Kevin Mulhare | VIP Soccer Fan (uncredited) |
| Tommy O'Brien | Protestor / Husband (uncredited) |
| Mason Pike | Fan (uncredited) |
| Christopher Pugarelli | Neighbor / Christmas Party Guest (uncredited) |
| Diezel Ramos | Future soldier (uncredited) |
| Rahiem Riley | Draftee (uncredited) |
| Ramses R. Rivas | Protestor (uncredited) |
| Sage Shirley | Family Member (uncredited) |
| Harper Smith | French Soccer Fan (uncredited) |
| D.J. Stavropoulos | Protestor (uncredited) |
| Royce Stovall | Draftee (uncredited) |
| Eric Daniel Stumpp | Draftee (uncredited) |
| Art Sunday | Draftee / Medical Team (uncredited) |
| Bennett Tarr | Neighbor (uncredited) |
| Diane Tavegia | Neighbor at Christmas Party (uncredited) |
| Lindsey Thaxton | Female Future Soldier (uncredited) |
| Robert Tinsley | Military Lab Tech (uncredited) |
| Jamie Urena | Future Soldier (uncredited) |
| Cole Volgenau | High-Value VIP Soccer Fan (uncredited) |
| Alzie Williams | Draftee / Upscale Soccer Fan (uncredited) |
| Olaolu Winfunke | Captain Woods (uncredited) |
| Perry Zulu Jr. | Special Forces (uncredited) |
Produced by (Listed Below)
| | |
| --- | --- |
| Rob Cowan | executive producer |
| Leifur B. Dagfinnsson | producer: TruNorth, Iceland |
| Jules Daly | producer (produced by) |
| David Ellison | producer (produced by) |
| Bradley J. Fischer | executive producer |
| Dana Goldberg | producer (produced by) |
| David S. Goyer | producer (as David Goyer) (produced by) |
| Don Granger | producer (produced by) |
| Hjortur Gretarsson | line producer: Iceland |
| Adam Kolbrenner | producer (produced by) |
| Samantha Nisenboim | co-producer |
| Brian Oliver | executive producer |
| Chris Pratt | executive producer |
What Did The Movie Teach?
View this post on Instagram
Some remember worthy dialogues from the tomorrow war movie goes by this:
Sometimes, a man does what is best for his family, not him.
I am not a hero, I was just trying to save my daughter. If I gotta save the world to save her, then I am damn sure going to do it.
I will never leave this family. Because my best future, it turns out, was always right in front of me.
The tomorrow war's dialogues like these tell us throughout the movie that family is very important. Even the whole struggle Dan does is to save Muri. Well, mostly. 
But that's not all. There are a few other life lessons that this film did give the audience.
Second chances are really hard to come by.
If there's one thing that the world needs right now, it's scientists. We cannot stop innovating. That's how you solve a problem.
You don't laugh if someone says they are gonna survive something.
Now, these are pretty good advice to give to someone. Don't you think?
Plot holes & room for improvement
In a scene, Dan wants to take the future Muri with him to the past. But the movie earlier shows that the same person of two different timelines cannot co-exist in the same timeline ever.
Though she gets eaten by aliens and Dan cannot take her back, it is still disappointing that the story was written like this.
Considering the movie was an action genre, the action in the movie is not that much or that good. Without any doubt, that particular field could use a lot of improvement and work on.
The movie is ended, showing that Dan lives happily ever after with his family and doesn't fall apart or divorce his wife. He even reconciles with his father.
Which is all good, after all, who doesn't like happy endings but there is something called 'time paradox' that states' things are always destined to turn out the same way, and that whatever has happened must happen.' 
The Tomorrow War movie review 2021
Overall, the movie is a fair deal. There are no edgy, suspense scenes, but weirdly, the movie can keep you hooked.
There are some amazingly beautiful scenes in the movie where the cinematography and direction are outstanding. Also, when it comes to acting, the cast has not disappointed viewers.
The story is fine. Nothing new, just the old, classic time travel and aliens. But yes, this is probably the first movie where the two biggest sci-fi topics have been merged together.
Despite major potholes regarding time travel and certainly room for improvement in the action and a couple of cringy moments, the movie is a fair game if you want a decent watch on a weekend and chill.
For more such interesting content, follow us on Instagram and Facebook.
Read more:
THE TOMORROW WAR | Official Trailer | Prime Video
The Tomorrow War – Movie Review
The Tomorrow War – Angry Movie Review
25 Things You Missed In Tomorrow War