Over the years, Turkish dramas have entered the list of most-watched shows; hence, the rise of watching Turkish dramas in Hindi has increased in India. Their rich stories and brilliant execution have made these dramas internationally popular. And ever since the rise of OTTs, many such popular Turkish dramas are available to watch at your fingertips.
Easily accessible and affordable, OTTs provide a lot of titles in the Turkish drama genre in Hindi from their plethora of selections that will entertain you to the fullest. Because of this, Turkish Dramas have also become very popular in India. Not only are they very popular among the Indian youth, but this popularity has also led them to be dubbed in Hindi, with the Hindi dubs gathering millions of views in no time.
We will be looking at some of the most amazing Turkish dramas in Hindi that you can watch at your fingertips. 
9 Amazing Turkish Dramas In Hindi
Brave and Beautiful (IMDb rating – 7.2)
A serious romantic thriller, this Turkish drama in Hindi that will provide you with both wholesome and jaw-dropping moments from time to time is this 2016 32-part series called Brave and Beautiful. It is about Cesur and Sühan, who share a scandalous past.
The show is a thrilling ride full of love, murders, cover-ups, and revenge that will keep you hooked until the end. This Turkish drama is available on MX Player in Hindi.
Dirilis: Ertugrul (IMDb rating – 7.9)
Dirilis: Ertugrul, also known as Resurrection: Ertugrul in English, is a historical fiction drama about Ertugrul, a character based on the historical figure of the same name, the founder of the Ottoman Empire. The show chronicles his life, battling the Byzantines and Crusaders to the west and Mongols to the east while establishing the Ottoman Empire that was pushed away by the Mongols.
Spread across five seasons, this is one of the best historical dramas and Turkish dramas in Hindi to watch. Highly recommended! This Turkish drama is available on Netflix in Turkish and in Hindi on YouTube.
Black and White Love (Known as Prince of Passion on Disney plus Hotstar, IMDb rating – 8)
Black and White Love, or as it is called on Disney+ Hotstar, Prince of Passion, is a romantic drama about Dr. Asli Çinar Aslan, who is caught between a rock and a hard place. Not knowing that she assisted a mafia lord, who wants to kill her now, but gives her an ultimatum of marriage as her brother is a police officer, not to complicate things further.
What follows is a ride full of complex relationships, secrets, and lies, making this a perfect thrilling watch. Watch this Turkish drama in Hindi on Disney plus Hotstar. 
Day Dreamer (IMDb rating – 7.3)
Do you like romantic comedies that will make you laugh and cry simultaneously? Then this Turkish drama is for you! Day Dreamer is a Turkish rom-com drama about Sanem, who has to choose between two options – Get married, settle down and lead a comfortable life or find a job. She chooses the latter, applies to an advertising agency, and thus begins the journey that will make her life miserable and lead her to a destination she never thought she'd reach.
Day Dreamer is a sweet watch that will leave a huge smile on your face. Make sure to watch this Turkish Drama in Hindi on MX Player. 
The Gift (IMDb rating – 7.2)
Belonging to one of the best fantasy Turkish dramas, The Gift is one of the most entertaining watches out there. Revolving around a painter who embarks on a journey, unveiling the mysteries behind an ancient archeological site connected to her lineage.
The Gift is an earnest attempt to provide something different and intriguing in the fantasy genre that is too good to be missed. You can watch this Turkish drama in Hindi, English, and Turkish on Netflix.
Wounded Love (IMDb rating – 8.3)
Vatanım Sensin, also known as Wounded Love in English, is a period drama set amidst the last years of the Ottoman Empire. It is about a Turkish soldier who works undercover for the enemy, a grave secret that will cost his entire family's life if it comes out.
Wounded Love is a phenomenal Turkish drama that deals with love, family, loss, and hope. Known as Saltanat in Hindi, Make sure to search for "Wounded Love in Hindi" to get the entire playlist consisting of all episodes of this Turkish Drama in Hindi.
Life of Secrets (IMDb rating – 7.2)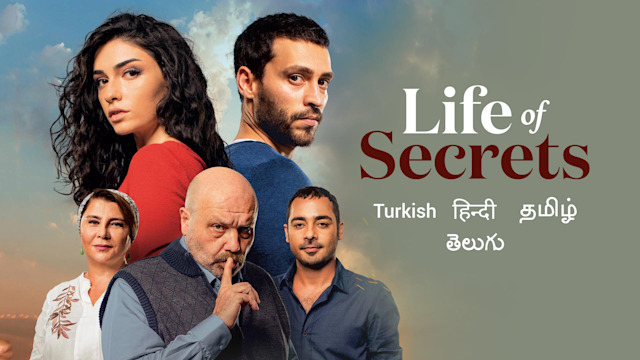 A thriller drama, Life of Secrets, is about Mustafa Kuzgun, who lives a happy life with his wife and three adult children. Living on the outskirts of Istanbul, he runs a small restaurant with no hopes of recognition. But peace soon wears out after Mustafa's past catches up to him, turning his entire life upside down.
The entire family harbors secrets that complicate things further. The show is a ride full of thrilling moments that will keep you on the edge of your seat. You can watch this Turkish drama in Hindi on Disney+ Hotstar.
Midnight at the Pera Palace (IMDb rating – 7.1)

This historical drama is a newer mini-series quickly gaining rounds on the internet and has become a must-entry in the Turkish dramas in Hindi list. It revolves around Esra, a young journalist assigned to write an article about the 130th Anniversary of The Pera Palace Hotel, which is soon approaching.
The Hotel is famous and harbors a dark secret, with a mysterious key that turns a room into a time-traveling portal. Esra accidentally stumbles into this and goes back to 1919, where she has to stop a plot unfolding that could lead to a disastrous change in Modern Turkey. 
Midnight at the Pera Palace is a fun watch. This mini-series can be watched on Netflix in Hindi, English, and Turkish. 
Black Money Love (IMDb rating – 7.5)
An action drama known as Kara Para Aşk in Turkish and Black Money Love in English, this Turkish drama sounds exactly like its title. Depicting the themes of love, murder, and mystery, Black Money Love revolves around Omar, a police officer investigating the murder of his fiancee, who allegedly cheated on him.
As he digs deeper into the investigation, he realizes there is more to the case, and things start to take a darker turn. Gritty, intriguing, and well-written crime saga; make sure to watch this series on Netflix in Turkish and in Hindi on YouTube. 
New Life (IMDb rating -7)
This romantic action drama revolves around Adem, an ex-special forces officer who had to leave the army because of a serious injury. Desperate to find a new job, he lands an opportunity to be the bodyguard of a rich businessman's wife, Yasemin, who is threatened to get killed if her wealthy husband doesn't pay 10 million dollars to the unknown blackmailer. New life is an amazing watch that provides a good mixture of action and romance from time to time. 
Which Turkish Drama in Hindi will you watch, which will act as your foray into the Turkish drama zone? Do let us know in the comments!
For more such interesting content, follow us on Instagram and Facebook.
Also, read:
8 International TV Shows On Zindagi That Will Take You On A World Tour