We have compiled a list of 10 best anime movies in Hindi by Studio Ghibli that you should watch at least once – from Castle in the Sky to Whisper of the Heart, you won't stop at one. 
Found in 1985, Studio Ghibli took its audiences by storm – packing emotions, high-quality animations, strong messages, heartbreaks, and a lot more in their movies. This Japanese animation studio is the best owing to its brilliant filmmaking and artistry. If you have not watched a single Studio Ghibli movie until now, maybe now is the time to start.
10 Best Anime Movies In Hindi By Studio Ghibli
Castle in the Sky (1986)
The first Studio Ghibli production – Castle in the Sky – was a total hit. The co-founder and director of Studio Ghibli, Hayao Miyazaki, spent his childhood around planes as his father had an airline business. In this Anime movie, you can see a lot of that inspiration coming in through steampunk-ish airships flying around the city.
With a strong storyline and run-and-chase scenes, Castle in the Sky will keep you on the edge of your seats. The movie revolves around two children running away from the villains after them. Packed with emotions and actions, this is a must-watch and one of the must-watch anime movies in Hindi on Netflix.
Also, read:
My Neighbour Totoro (1988)
My Neighbour Totoro is one of the most magical and one of the best Anime movies in Hindi that shows the out-of-the-world vision of its director Hayao Miyazaki. With the perception that other spirits on this Earth watch out for us and come to our aid when we need them, this one will become your favourite.
When the two sisters move to the countryside to be nearer to their ailing mother, they encounter forest spirits known as 'Totoro' and befriend them. My Neighbour Totoro is full of nostalgic scenes with peaceful summer afternoons and the playfulness of the characters. In this warm movie, Hayao Miyazaki experimented with all the joys and emotions of being a kid.
Grave of the Fireflies (1988)
Grave of the Fireflies is another one of the best anime movies in Hindi that Studio Ghibli has ever produced. It will pull at your heartstrings and make you bleed along with the characters' tragic story. Set against the backdrop of World War II, Grave of the Fireflies presents the audiences with the Japanese side of the disastrous and crushing war.
Directed by Isao Takahata, another one of the co-founders of Studio Ghibli, this movie has the perfect animations and the storyline to bring forth a myriad of emotions. Two siblings, aged fourteen and four, try to survive the aftereffects of the war when they have been orphaned by it. Must watch! Watch it in Hindi here.
Spirited Away (2001)
Spirited Away is one of the most Americanised Japanese stories ever. It is a take on Western classics such as Peter Pan and Alice in Wonderland. No wonder it was a big hit in the United States, and Marvel also went on to win an Oscar.
Being quite different from the other Studio Ghibli movies, it is best not to start with this one as it would be difficult to grasp the main essence of Ghibli's following. Other than that, Spirited Away has a lot of twists and turns without letting you imagine what is around the next corner. You will in fact be 'spirited away' on this marvellous ride.
Howl's Moving Castle (2004)
Another one of Studio Ghibli's gems, Howl's Moving Castle, has it all – women empowerment, anti-violence, and sacrifice. You will be in for an amazing experience with world-class animations and intricately detailed visuals. It is believed that Hayao Miyazaki made this movie in response and opposition to the war going on in Iraq at the time.
Howl's Moving Castle has a powerful theme describing the impact of war and violence in destroying the human soul. This movie has a lot of magic and fantasy riddled with bits and pieces of realism that just hit home. It is definitely a must-watch.
More Best Anime Movies In Hindi By Studio Ghibli are available in Hindi subtitles on Netflix
Kiki's Delivery Service (1989)
Magical themes have always been a centrepiece for Studio Ghibli movies. Kiki's Delivery Service introduced the magical broom long before J.K. Rowling's Harry Potter. Following a simple theme of adventure and magic coupled with a mundane life – this movie will warm up your heart.
It is the story of a young witch apprentice who travels (flies, to be precise) to the city to find work. This is where she catches the fancy of a young boy totally obsessed with aeronautics. What follows is a warm tale of friendship, loneliness, risks, and adventure. You will not want to miss this one on a cosy day in your blanket.
Also, Read:
Only Yesterday (1991)
Feeling nostalgic? Only yesterday takes you back to life in simpler times, surrounded by the joys of small towns. If you too, have moved to a big city for work, this anime movie will make you want to pack your bags and go home to experience the slow life again.
Only Yesterday pulls on our deep-rooted emotions with the help of a 27-year-old protagonist who takes a trip home from the big city where she currently lives. Heart-warming and melancholic, Isao Takahata's film may appear to end in a certain way but has a totally unpredictable outcome. Just leave the hustle and bustle of your city for a day to sit down and watch this gem. This anime movie is available in Hindi subtitles on Netflix. 
Porco Rosso (1992)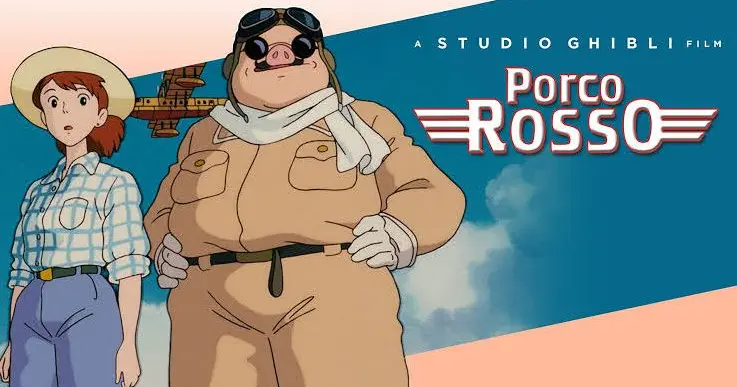 Porco Rosso in Italian means 'Crimson Pig'. Yes, he is our protagonist. Okay, let us explain. This movie follows the story of an Italian World War I fighter pilot who was transformed into a pig following a curse. This action-adventure anime film became quite famous, and Porco Rosso became one of the most memorable characters in Studio Ghibli.
As is very classic of Hayao Miyazaki, this anime movie in Hindi has plenty of flying aeroplanes with the protagonist hunting down air pirates. This bittersweet masterpiece will take you on a roller coaster ride of emotions and is definitely a must-watch. This anime movie is available in Hindi subtitles on Netflix.
Pom Poko (1994)
Pom Poko is an anime movie that strongly focuses on man and his connection to nature. Directed by Isao Takahata, this film follows the story of shape-shifting raccoons who fight humans to save their forest home. As humans set out to destroy their habitat for 'development,' the raccoon dogs actively thwart their attempts.
Pom Poko is one of the best fantasy films giving a solid message coupled with action, entertainment, and adventure. For us, the best part of the movie is when the raccoon dogs start fighting among themselves, resulting in some seriously hilarious situations! This is before they realize that it is the humans that they have to fight. Do not miss this one! This movie is available in Hindi subtitles on Netflix.
Whisper of the Heart (1995)
Whisper of the Heart is one of the first movies that either Hayao Miyazaki or Isao Takahata did not produce. Yet, the film does full justice to the legacy of Studio Ghibli. It is a story of young love, inspiration, aspirations, and a whole lot of magic.
Whisper of the Heart has a simple, coming-of-age storyline, unlike the other Studio Ghibli movies. It is easy to understand and intensely heartwarming. The characters in this film will make you fall in love with them, a kind that misses them long after the movie ends. Save it to your feel-good watch list, and be sure to lift your spirits back up with this one! This movie is available in Hindi subtitles on Netflix.
This was the list! Have you watched any of these before? If not, these HAVE to go on your watch later folder. Do let us know in the comments about your thoughts on the list of best anime movies in Hindi by Studio Ghibli!
For more such interesting content, follow us on Instagram and Facebook.