Ginny & Georgia has been endlessly compared to the much-loved 2000s comedy-drama "Gilmore Girls," and for a good reason. Featuring multiple similarities, from an unconventional mother-daughter relationship to teen pregnancy and coming-of-age themes, even Ginny & Georgia do not shy away from making this comparison known.
However, while Gilmore girls have seven seasons, with the first episode aired on October 5, 2000, Ginny & Georgia has only two seasons, and the first season aired on February 24, 2021.
So should you watch Ginny & Georgia if you loved Gilmore Girls? Or vice-versa? Read this article to find out Ginny And Georgia VS Gilmore Girls, Which One Is Better And Why?
Ginny And Georgia VS Gilmore Girls: Similarities
The teenage protagonists are products of their generation
With the way "Gilmore Girls" progresses, up to its revival, Rory becomes the perfect picture of the spoiled, directionless millennial. "Ginny & Georgia," even having been dubbed the "Gen Z Gilmore Girls," the shit-talking, angsty, and progressive Ginny, with her mental health issues and diverse friend group, is the poster Gen Z teen.
Absentee bad-boy father (comes with a motorbike!)
Lorelai has Rory when she's 16, and Georgia has Ginny at 15. The fathers? Their childhood flames, with matching bad boy images, motorbikes, even as adults! There's also the rekindling of these romances, with both mothers falling into old patterns.
Joe is the "millennial Luke" (now with more diversity!)
If Gilmore Girls taught us anything, it's that the witty, grumbling (and hot!) restaurant owner gets the girl. Fan favorites and pining, Luke and Joe are remarkably similar and almost equally likable- score for Joe with the pop of color and adorable backstory, but Luke's the one with the heavy screen time! Now, let's see what is different between Ginny And Georgia and Gilmore Girls.
Ginny And Georgia VS Gilmore Girls: Differences
Ginny & Georgia is more diverse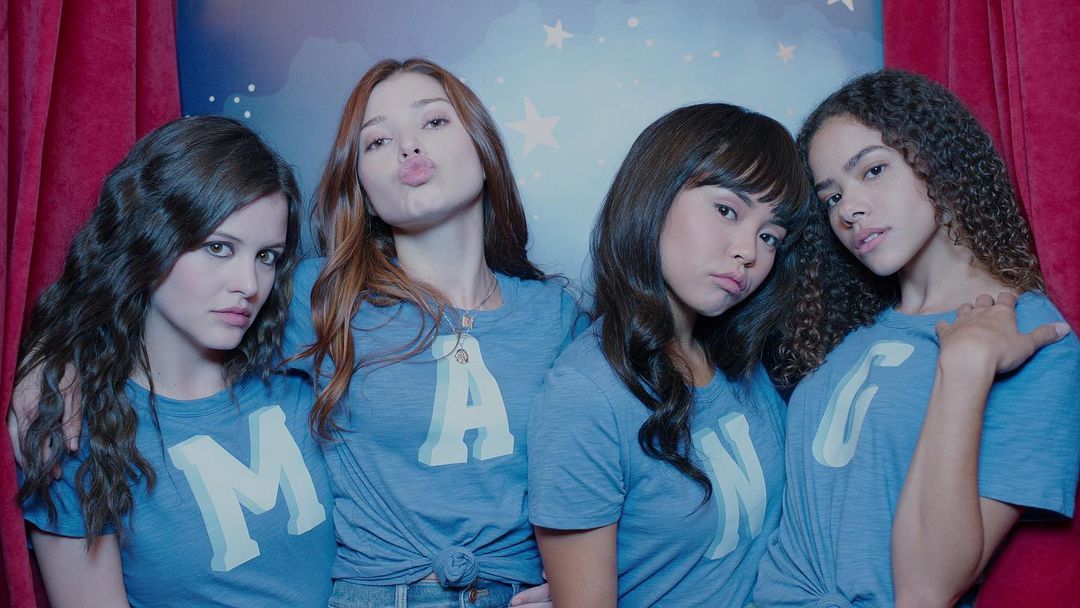 Infamously, Gilmore Girls has an unrealistically white cast, with shallow or little to no people of color or LGBT+ characters who are treated with respect. Thankfully, Ginny & Georgia has no such problem, Ginny herself struggles with her biracial identity; there are people of color sprinkled throughout the main cast, her father, her boyfriend, and the beloved Joe, amongst many others. Even the gays get a fair shot- Ginny's best friend, Maxine's storyline is handled with the grace as any other YA romance.
Totally different vibes
While Gilmore Girls is this happy cut-out slice-of-life romance drama, Ginny & Georgia boils over the top with its thriller and murder elements. Ginny and Georgia is so much more fast-paced and oversaturated, discussing a wide variety of heavy topics (often, not to the best effect), unlike the much lighter "Gilmore Girls."
Different mother-daughter relationship
While both mothers are estranged from their families, the similarities end there. Although Georgia likes to claim that she and Ginny are like "The Gilmore Girls with bigger bo*bs," their relationship is far from the kinder, more understanding one Lorelai and Rory share.
Rory often parented Lorelai, often being too mature for her age. Ginny & Georgia, meanwhile, have a tense relationship. Ginny's often the quintessential spoiled, rebellious teenager, hating on her mom, a trait that's made her disliked by many fans. Her relationship and reaction to Georgia's past are also far less sympathetic.
By comparing the similarities and differences, we can say that you definitely must watch Ginny & Georgia if you like Gilmore Girls.
P.S. If you have not watched both shows, then do not worry. Both shows are available on Netflix. So, Open Netflix and start binge-watching. Do you agree with the similarities and differences? Let us know in the comments.
Images: Gilmore Girls/ Dorothy Parker Drank Here Productions, Ginny and Georgia/Queen Fish Productions, Written by Utshaa Basu
Also read,