There are some great must watch movies on Netflix that everyone should see at least once. In a short time, Netflix has become one of the best entertainment platforms in the world – with top-class movies, TV series, and documentaries waiting to be indulged in with just a single click. In this article, we have compiled a list of some of the must watch movies on Netflix that are just too good to be left out.
Top 10 Must Watch Movies On Netflix That You Should See At Least Once
The Adam Project (2022)
In the list of must watch movies on Netflix, let us start with the latest – The Adam Project – which you probably would have already seen. If not, well, wait no more! This American science fiction is all you need to feel good after a long and unrelenting weekday.
Imagine a rogue time traveler from the 2050 crash landing in 2022 and teaming up with his 12-year-old self to save the future. This is seriously some good stuff. The Adam Project is a blend of adventure and witty humor that you will not regret spending 106 minutes on. Definitely, one of the must watch movies on Netflix.
The Gray Man (2022)
Here's another action thriller for your Must watch movies on Netflix collection. It is a full package with a superbly talented cast and exceptionally refreshing action scenes. This heart-tugging masterpiece has an old-school storyline with a spy agent getting to know the industry's dark secrets and being hunted down by assassins all over the globe. But this is exactly what makes this movie highly comforting to watch. Oh, and the agent is none other than Ryan Gosling with his ever-present sense of humor. Play it your next weekend in bed – promise you won't regret it.
Don't Look Up (2021)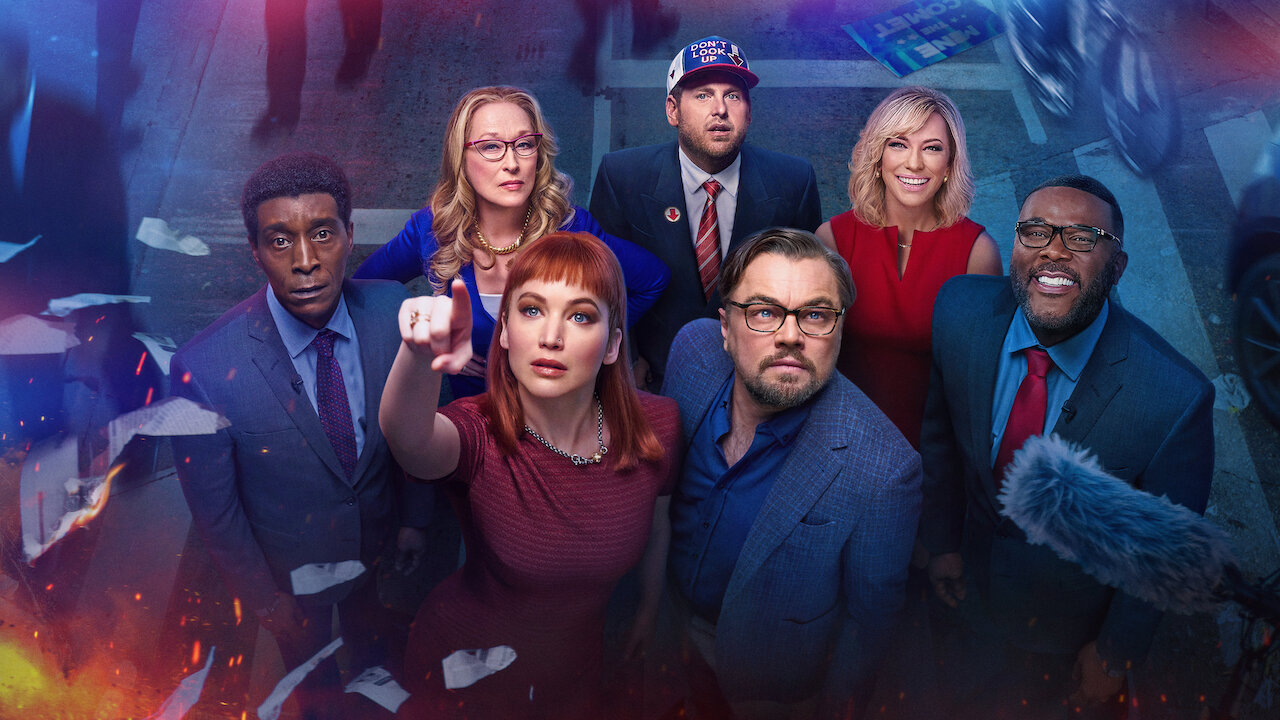 What if the Earth were to blow up one day or if humankind would become extinct like our dinosaur brothers? Meh. Okay. Right? Don't Look Up is a movie based on real events that have not happened yet. For example, the end of the world. When two astronomers try to warn the world of the worst news for humanity, they are made fun of on international media, and the distracted people never take them seriously. Until the worst arrives, this Sci-Fi drama is a satire with a very strong message, and the star-studded cast makes it a treat to watch.
The Little Prince (2015)
Based on the marvelous book of the same name, this movie talks about friendship and loneliness, love and loss. The Little Prince is one of the best-animated movies out there that will tug at your heart and scream at you not to let the child inside you die. It is a refreshing dose that focuses on the value of human connections in a world obsessed with accomplishments. Additionally, this movie has individuals living on asteroids scarcely bigger than themselves, a child flying an airplane to reach another planet… Add The Little Prince to your Must Watch Movies on Netflix collection and feel your imagination grow!
Nightcrawler (2014)
If you are a fan of cinema, this is a movie that cannot be missed. Superb storyline. Superb direction. Superb acting. Superb… you get the point. Nightcrawler showcases a freelance cameraman who sets out to shoot crime on the streets at night. But obviously, this dark and gloomy world takes a toll on him. If you find the title creepy, the movie is too – and will leave you on edge. Watch it for its brilliant screenplay and a storyline that is very different from the others, giving an accurate portrayal of humanity and reality. Underrated but a must-watch.
The Hangover (2009)
When was the last time you watched a movie that had you laughing on the floor all the way through? The Hangover is ridiculously hilarious with a splendid cast and acting. Four friends travel to Las Vegas to celebrate one of their's weddings and wake up with a hangover to realize the groom is missing, and so is their memory of the previous night! The search that follows will have you choking with laughter. What's more? This one has two sequels that are equally as good! You have yourself a binge-watch weekend.
The Departed (2006)
A crime thriller with Leonardo Di Caprio as an undercover agent? Yes, please! The Departed is a movie that NEVER gets boring, and the suspense keeps you glued to the seat until the end. It is a story of deception and revenge, packing a lot of violence and action. With innumerable twists and turns in the plot, you will find yourself guessing the next line of action – and more often than not, you will have guessed wrong. If you are a fan of thrillers with a lot of aggression and brutality – drop this in your Must Watch Movies on Netflix bag.
Pride and Prejudice (2005)
Of course, Pride and Prejudice had to make a list! Without this classic, your Must Watch Movies on Netflix collection is anything but complete. A book of the same name that was written in the 1800s inspired this romantic comedy and brought the original theme of 'opposites repel and then attract' into the world of romance. The splendid acting, the witty humor, and the age of handwritten letters are all a treat to indulge in. If romance is your genre, it is unlikely you missed this one. But if you did, please leave everything and watch this TODAY! This movie is a drug, and you won't watch it just once.
Forrest Gump (1994)
Saying that Forrest Gump is a gem should be an understatement, really. It is that and much more. Once you have seen the world through the eyes of Forrest Gump, it will never be the same. It is a story of a simple, innocent guy who has certain disabilities and lacks cynicism – taking things exactly as they are. Yet he chooses to appreciate life and good-naturedly overcome it all. Combining comedy, positivity, and satire, this movie will make a special place in your heart – if it has not done so already. Go with this one for some fine 90s cinema and an even finer storyline.
Monty Python and the Holy Grail (1975)
If there is one movie that will be on your Must Watch movies on Netflix collection – add this! Monty Python and the Holy Grail is tongue-in-cheek hilarious and will leave you doubling up in laughter long after it is finished. This cult classic movie of the 1970s is a satire on the medieval ages and is as wonderfully ridiculous as it can get – in a good way, of course. This movie explores humor in a way that is not seen in modern-day comedy films, which is why it remains evergreen. Watch this movie for absurd situations and witty humor that will leave you light-hearted. 
The evergreen movies from the 1970s like Monty Python and the Holy Grail to modern-day movies like The Adam Project are here! Add these must watch movies on Netflix to your 'to be watched' list for the next time you cuddle up for your Netflix and Chill session.
For more such interesting content, follow us on Instagram and Facebook.
Also, read: