Sometimes, we feel the urge to watch something exciting, thrilling, and something scary that will not only be interesting but also grab our attention so that we forget we have other businesses. If you are looking for something that will meet your expectations and blow your minds away, here are 10 scary zombie movies and TV series that will, quite figuratively, scare the living daylights out of you. 
10 Zombie Movies And TV Series That Can Scare
The Living Daylights
Resident Evil (2002)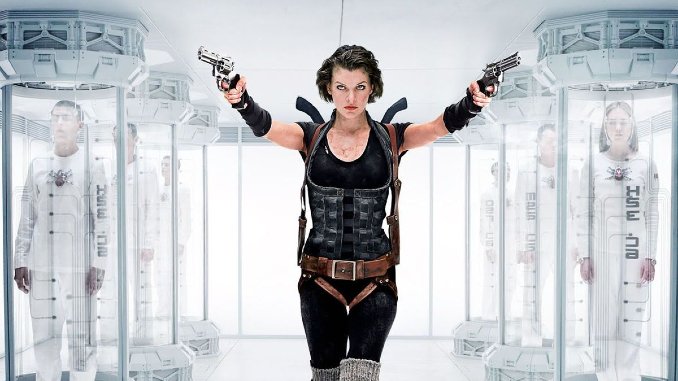 IMDB: 6.6/10
We think it's no secret that anyone who used to watch Zombie movies would have missed out on Resident Evil. But if you haven't watched it yet, let us give you a glimpse of it. This movie is about a virus that transforms hundreds of humans and animals into flesh-eating zombies. To control the damage, a special military unit attempts to eliminate them before it's too late. The movie gives some serious jump scares. 
All of Us Are Dead (2022)
IMDB: 7.5/10
This series is why we were inspired to write this article and compile a list of the best zombie movies and web series of all time. A high school in South Korea becomes ground zero for a deadly zombie virus outbreak. The students are trapped and are finding a way to fight their way out or turn into one of the rabid infected. If you haven't watched it yet, here's a good idea to block your weekend, grab some popcorn, switch to Netflix, and Chill. 
Train to Busan (2016)
IMDB: 7.6/10
If you have watched the trailer of 'All of Us Are Dead,' you will find a mention of this gem of a movie in there. Train to Busan is about a zombie virus outbreak in South Korea where passengers struggle to survive on the train from Seoul to Busan. Imagine being in a zombie apocalypse on a train with hundreds of unknown people and no idea where to go. This movie gives you goosebumps so many times. 
Go Goa Gone (2013)
IMDB: 6.6/10
Could this movie be why our parents don't allow us on a Goa trip? 👀 Because if there were a list of reasons why a Goa trip would go wrong, this movie would top the list. A group of friends, tired of corporate slavery, want to take a break and have a good time. They end up at a rave party on a remote island in Goa, where they find that the island is infested with Zombies. A few Zombie movies put a funny hat on them, and this one is definitely on the list. Also, special kudos to this movie for bringing 'Khooni Monday' for us to hate Mondays but in style. 
World War Z (2013)
IMDB: 7/10
This movie is about a former United Nations employee caught in an unexpected race against time to stop a zombie pandemic. This movie is even more special and nail-biting because it involves armies, governments, and the zombie pandemic that threatens to destroy humanity. So if you find the movie's plot, here's your sign to invite your friends over and enjoy this movie with them. 
The Walking Dead (2010-22)
IMDB: 8.2/10
In this series, a Sheriff gets shot and falls into a coma. To his sheer surprise, when he wakes up from a coma, he finds himself in a Zombie Apocalypse. He tries to find out about his family, and after that, he gets in touch with a group where he becomes the leader. The Sheriff in him takes charge and tries to help the group survive, find a place to live and get them food. This show revolves around survival, the risks, and everything you will have to do if you want to survive. 
The Girl with All the Gifts (2016)
IMDB: 6.6/10
Fasten your seatbelts because this movie is full of gifts but scary ones. This movie is about a near dystopian future, where some mysterious fungal disease has risked humanity. The humans are turning into flesh-eating zombies rampantly. The only hope to save humankind is a small group of hybrid children who crave human flesh but retain their ability to think and feel. A girl, Melanie, is blessed with a gift to save the people; it is all about a deadly journey to survive.
Zombie Detective (2020)
IMDB: 7.4/10
Adding to the list of funny zombie series', here's one to tickle your funny bones while also giving you jump scares. Zombie Detective is a series about a zombie in the second year of resurrection who becomes a detective pursuing his past. The best part is that the zombie does all this while trying to coexist with humans. The fantastic blend of horror and comedy makes it one of the most unmissable zombie series of all time. 
Zombieland (2009)
IMDB: 7.6/10
Drop all the plans you have because Zombieland is no ordinary movie. The movie is about a shy college student searching for his family and decides to travel to Ohio to see if his parents are alive. But, here's the twist you have been waiting for. He gets a ride with a brutal but savage zombie-killer headed to Florida. On their way, they find a woman whose sister is bitten by a zombie and wants to be put out of suffering. Now how the story unfolds and what obstacles they have to fight is something you will find only if you watch this 1-hour, 28-minute blockbuster. 
28 Days Later (2002)
IMDB: 7.5/10
It would be unfit to compile a list of must-watch zombie movies and leave this one out of the list. In this movie, animal activists invade a laboratory and intend to release chimpanzees undergoing experimentation and infected by a virus. The scientist asked the activists to keep the cages locked, but they wanted to do things differently, and it caused a disaster nobody had thought of. Now, 28 days later, the story's protagonist wakes up from a coma only to find out zombies inhabit the entire city. The movie has a fantastic storyline and great acting, giving more reason to watch it.
So, which zombie movie or TV series are you tuning in to this weekend and giving yourselves the rush you have been waiting for. Do you think we missed out on another zombie movie that should have been here? Let us know in the comments below. 
For more such interesting content, follow us on Instagram and Facebook.
Also, read: