In this article we have featured Best Action Movies on Netflix India in 2021, When it comes to OTT platforms, Netflix has been the most popular amongst Indians and people throughout the world.
The kind of content and the amount of diversity that Netflix brings in are unbeatable and unfathomable.
Starting from the picture quality to the collection of series and movies, everything is top-notch. The presence of Netflix in the business of OTT platforms is surely a threat to fellow contenders.
One of the best things about Netflix is that it comes in a different package system that makes it convenient for the audience and caters to their needs in a far better way.
Another positive thing about Netflix is that the content gets renewed periodically and for this, it never gets boring for anyone. Here's to extending gratitude to Netflix every day for entertaining us amidst our busy schedules and keeping us all smiles.
Now, as the title suggests we will be talking about Action movies in this article. Action movies, in our opinion, are a very difficult genre to deal with. It has to be dealt with carefully and cleverly.
Anything being overdone will make things excessively dramatic for the audience. On the other hand, if makers do not produce impactful scenes, the audience will not be entertained enough and consider the movie to be a waste of their time.
Several filmmakers have done their job in the most fascinating way possible and Netflix has helped us enjoy their work by bringing finely curated top-class movies on our screens. What we have done here is that filter something that has already been filtered!
Here's to the OTT platform that has saved many of our favorite series from being shelved. Here's to the OTT platform that gave many actors a great chance to showcase their brilliant talent. Let's talk no more and get into 'action'.
Here's a detailed description of some of the movies on Netflix that you all must watch, even if that is for once.
Rocky Handsome: love is the way of life
Rocky Handsome is a very emotional movie that has well-choreographed and brilliantly shot action scenes. Set in the backdrop of Goa, Rocky Handsome begins with a light mood where the young man, Kabir, is in love with a girl named Rukshida.
Kabir has been played by John Abraham and we have Shruti Haasan in the role of Rukshida. Two immensely talented actors who we all love. Coming back to the story, Kabir was a happy-go-lucky person in the beginning but a series of events changed him completely.
Life and some of its dark events take a toll on him. he succumbs to personal losses as we all would. Goa, as a place, seems very shimmering and bright from the outside but on the inside, it has layers of mystery and darkness.
However, Kabir lives on with his life and after some time he meets an eight-year-old girl who lives in his neighborhood and is very smart and intelligent, of course, she knew how to befriend a man as damaged as Kabir.
As fate would have it, she gets kidnapped after facing a lot of troubles. Kabir, who found his only hope to live in this little girl, is not ready to let her go and as any guardian would, he goes out to find her and get her back.
What follows after that is all that we have to find out by tuning in to our very own Netflix! Oh! forgive us if we did not talk much about the cinematography and fight scenes because that is the treat you all are in for. Here's to rooting for John Abraham all the way.
Naam Shabana: when women stand up for themselves.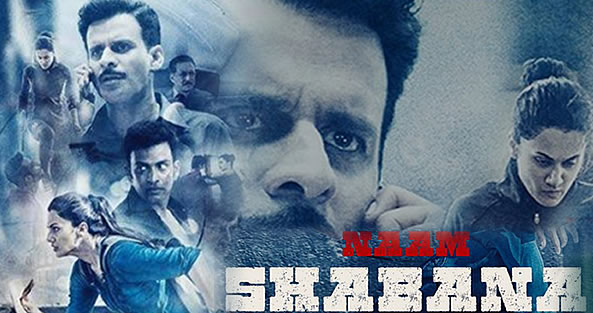 The role of Shabana has been played by none other than Taapsee Pannu, need we say anything more about the movie? Go and watch it as soon as possible and no need to thank us for recommending this action-filled heart-wrenching story. Anyway, we will give you a sneak peek into this gripping piece of the entertaining yet tragedic story.
Shabana, a young girl living in a house that is just a little better than a slum, has a father who is alcoholic and torturous, to say the least. It has been a routine for him to beat up his wife every night he came back home, as Shabana grew older, she became the prey of his "night routine" as well.
One day, being fed up with him and his actions, she decided to protest and as fate would have it, a series of very important and life-changing events follow.
Shabana grows up to be a strong and skilled woman who has a wall constructed around her and never allows anyone to know her heart. However, a man called Jai breaks the wall and makes becomes the love of her life.
Again a series of tragedic events follow and she loses Jai to a group of gangsters who were trying to follow and harm her.
Killing those people became the mission of her life but she did not have enough resources with her. Surprisingly, she received a call from the intelligence bureau of India who was willing to help her but at the cost of something. What is that? Tune in to Netflix for all those answers and many more hidden treats.
Parmanu: The Story of Pokhran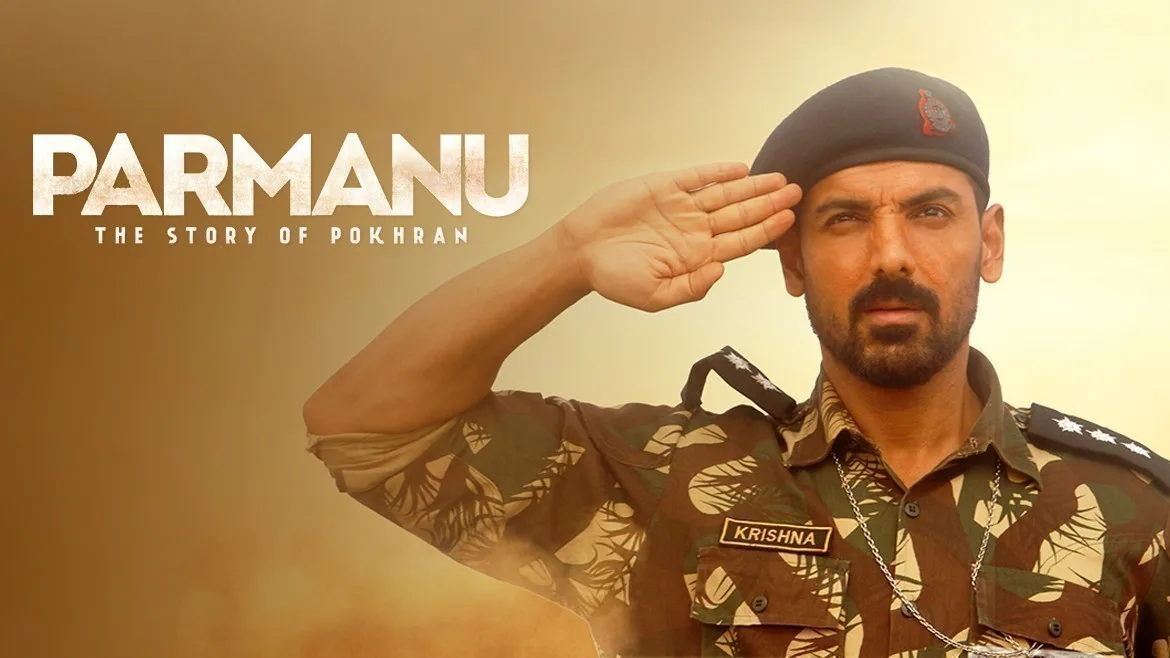 This movie will fill the heart of every Indian with pride and honor. It is that story that made India the superpower it is today.
Without the sincere efforts of some brave heroes and the leadership of some great leaders, a lot of things would not have been possible and every Indian is eternally grateful for all that has been done.
This story tells us what courage and determination can make people achieve in this world. Sometimes, it is world recognition itself. The main character here has been portrayed by John Abraham, one of our favorite action heroes.
Ashwat, the name of John Abraham character is an IAS officer who has been entrusted with the duty of leading an operation where nuclear weapons would be developed and tested but the main condition here is that the USA intelligence forces should never come to know about it at all.
The series of events that follow and take place are sure to send chills down the spine of any person. Let us thank Netflix for presenting this masterpiece on our screens.
Mard ko dard nahin hota/ the man who feels no pain
"Mard ko dard nahi hota" is a 2018 Action/comedy which features Abhimanyu Dasani as Surya in the lead role.
The actors Radhika Madan, Gulshan Devaiah, Mahesh Manjrekar, Jimit Trivedi also have crucial roles and have done complete justice to it.
The movie has been written and directed by Vasan Bala and produced by none other than Ronnie Screwvala. "Mard ko dard nahi hota" is a famous dialogue from the 1985 hit movie, "Mard".
However, the 2018 movie is filled with sarcasm and is taking a jibe at the concept of toxic masculinity which makes men hide their pain because if that is not done, they would be showcasing themselves as weak or incompetent.
The movie begins by showing Surya as a boy who has congenital insensitivity to pain. In simpler words, it is not possible for him to feel pain or hurt. The movie has a very fine balance of comedy and seriousness. The message that the movie tries to convey is very strong and sensitive.
The whole concept of it is very new in a society like ours. However, the movie has been internationally acclaimed and very well received by critics and the audience.
The martial art scenes are beyond perfection and are sure to get you an adrenaline rush now and then. A movie that is filled with action, comedy and conveys a strong message whilst destigmatizing our minds is not something anyone should miss. Do give this 'coming-of-age' movie a watch and as we say, do not forget to tune into Netflix!
Paan Singh Tomar: We are all hunted down by our circumstances.
There are some names which are enough to make us watch a movie and here, the name is that of "Irrfan Khan".
This 2010 Action movie that has been directed by Tigmanshu Dhulia casts Irrfan Khan in the role of Paan Singh Tomar. It is the story of a young man from a small village who went on to join the Armed forces to earn a living for his family.
Soon, he gets recognized by his coach for his talent in running and is sent to the Sports Academy. He runs several difficult races and goes on to win many Gold medals for the country.
Amidst all these things we also get to learn about his troublesome personal life where there exists constant threat against him and his family because of inter-personal family matters.
After he retired as a sportsperson, he faces a lot of trouble and realizes that no one is paying him the amount of respect he deserves.
One day when his mother is killed, he loses all his patience and senses and decides to become a dacoit for avenging the death of his mother and solving several other issues that troubled the entire village.
Had the police taken a firm decision when his mother was killed, his fate would have been different. This action-packed top-class movie explores several emotions of human life, ranging from friendship, enmity to love and betrayal. Tighten your seatbelts and be ready to go into this roller coaster ride with Netflix on your side.
Gabbar: A hero in the name of a villain
How can we talk about action movies and not mention Akshay Kumar? He is a prodigy and has a legacy of his own.
A man that does all his actions by himself and is extremely disciplined is a rare find. Therefore, here is a movie by the ultimate 'action hero' of India. Aditya, the role played by Akshay Kumar, is a common man who has his own sweet and small dreams.
He has a loving wife (played by Kareena Kapoor) and is about to start a family of their own at a new place, in a new flat of their own. His wife probably gave him the happiest news of their life when she told them that they were pregnant and expecting their first child together.
However, a disastrous incident takes place and his wife dies. The blame is completely on the administrative system of the city and Aditya is completely shattered.
Now, we all know how difficult it is to get any sort of compensation from these authoritative people, and here all that Aditya was looking for was justice and he would not take anything less. He goes underground and prepares himself for all the challenges that are to come his way.
He comes out to challenge the authorities but at the same time, he has to make sure that his identity remains hidden because otherwise he would be arrested and put behind the bars like any other commoner to try to protest or seek justice.
He can gather a lot of people in his support and works relentlessly to avenge their grieves and get them the kind of justice they deserve whilst saving them from systematic exploitation and injustice. The people in power become alert and try to save themselves but our own Gabbar has traps fixed for everyone and no one except himself can save them from it.
The most fascinating fact about this movie is that it explores and portrays all the different forms of exploitation that we commoners are subjected to every day and how the privileged section of society acts blindly and ignores the suffering of others.
This movie surely makes all of us want a 'Gabbar' in the society who would aid in ending systematic corruption and be able to save the lives of thousands of people who die on the roads daily.
Do not fail to watch this movie as the message that has been portrayed here is very important for every one of us to know. Also, if you did not know, 'Gabbar' is the name of an iconic villain in the Indian Cinema Industry as the name of the villain in the movie 'Sholay' was Gabbar.
Also, does Aditya find love in his life again? We will keep that a mystery along with a lot of other things. So, do not forget to tune into Netflix!
Quick Links:
Rowdy Rathore: Good cop vs. Bad Cop
I guess, as we are talking about the action genre, it would be wrong on our part to talk about Akshay Kumar only once. Rowdy Rathore was released in the year 2012 and took the theatres by storm. It made a total business of rupees 218 crores and that is huge, to say the least.
However, it is important to mention here that this movie is a remake of the South Indian movie "Vikramarkudu" which was released in the year 2006 and directed by S.S. Rajamouli.
So, if you are a fan of South Indian movies, go on and give it a watch. Rowdy Rathore is the story of a police officer who has a loving little daughter. He lost his wife and clings on to their daughter as this last hope to live and be merry.
However, things change when he is posted on duty in a village that is a hub of criminals. He tries his best to cater to his duties and is then attacked by criminals. Cutting it short, there is another man who looks just like Vikram but is a thief himself.
He has a love interest called Paro (played by Sonakshi Sinha). As a part of destiny's game, a friend of officer Vikram discovers him and narrates the entire story to him. He then takes full responsibility for Vikram's daughter and assumes the role of an IPS officer.
The other criminals of the town are shocked by his return and cannot comprehend a lot of things. He goes on to fight them and avenge the death of many whilst showing the criminals their place. This movie is filled with entertainment, amazing action scenes, and some emotional scenes.
The fight scenes are going to keep everyone entertained throughout. Needless to mention, the music of the movie is extremely peppy and the dance numbers are a big hit.
Here's to hoping that you all have a good time surfing through these movie recommendations as they are our favorites and we think they are going to keep you all entertained whilst making you all aware of a lot of things that happen in society.
Netflix has truly done an amazing job by making all these movies so readily available to us. Happy binge-watching and do not try the action scenes at home, as they say.