Along with the necessities of life, the quintessential element of adda is something without which the people of Kolkata cannot thrive. From heated political debates to first dates, addas have remained constant in the stream of change. Previously local tea shops have been the hub of such discussions. Still, with the significant boom in the café culture, from a kid to an octogenarian, almost everyone is found thronging the cafes. 
Inspired by European culture, the culinary hotspot of eastern India, Kolkata, houses a gamut of aesthetic Instagram-worthy cafes. These cute cafes are the perfect places to hang out with your squad, ranging from quaint to modern and with pocket-friendly prices. So, from the vast ocean of cafes, we have shortlisted the 10 best cafes along with similar places under each category for you to explore. Take a quick look at them:
To be noted: The listing has nothing to do with ranking.
Marbella's
View this post on Instagram
This cute little café on Hindustan Park with its artistically decorated entrance is definitely going to occupy a place in your heart! Inspired by the quaint town of Marbella in Spain, walking along with this holiday café, one instantly feels they are transported to the European streets. The glass-like ceiling and presence of greenery inside give the vibe of sitting on nature's lap. And do I even need to mention that posting a picture with this café as the backdrop will be a great addition to your Instagram?
Every nook and cranny of this minimalistic yet beautifully designed café is a treat to the eyes, which makes it the perfect spot for your date or some me-time.
Location: 29A, opposite Abin Design Studio, Golpark, Hindustan Park, Gariahat, Kolkata, West Bengal 700029
Food to watch out for: Cranberry Coffee Cooler, Pesto Caesar Salad, Pesto Roasted Mushrooms, Crescent Sandwiches, Baked Beans with Yellow cheese and Cilantro, Deconstructed Fruit Cake.
Similar Places: Artsy Coffee and Culture, Sienna Store and Café, Piccadilly Square.
Blue Mug
View this post on Instagram
The name might be pretty familiar as this Jodhpur Park café has become a favorite among the millennials owing to its reasonable rates and the relaxed ambiance. The kettle lamps, elaborate fairy lights, mismatched chairs, and a cutesy swing all add to the quirky décor of the café, which makes it stand out among others. It furnishes both indoor and outdoor seating. Although the food is inexpensive here, it tastes pretty good.
However, avoid visiting Blue Mug Café during weekends if you don't want to push your way through the crowd!
Location: 1/121 Jodhpur Park Road, Mall, near South City, Jodhpur Park, Kolkata, West Bengal 700068
Food to watch out for: Chicken Club Sandwich, Oreo Mint Shake, Chicken Steak, Honey Mustard Chicken Platter.
Similar Places: Mrs. Wilson's Café.
The Bikers Café
View this post on Instagram
Are bikes your ultimate love? If yes, then we've got you the best option to hang around. Biker's Café, as the name suggests, has everything bike about it! From using gears and disk brakes as wall clocks, piston as the handle of the main door, a headlamp as a source of light, modified bike seats as stools to using back-lit number plates and petrol tanks for giving a different texture to the walls, the décor is surely eye-catching.
The befitting cutlery and wooden flooring add to the rustic vibe of this place. The café also has a kids' play area, a secluded smoking zone, live music, and free wi-fi.
Location: 31, Elgin Road, Platinum mall, Kolkata, West Bengal 700020
Food to watch out for: The breakfast range, which is its USP, Potato Potholes, Basil Bruschetta, Fruit Crepe, French Benedict, Wheel-A-Cheela, Samui Benedict.
Similar Places: Hit Wicket (cricket-themed café).
Mrs. Magpie
View this post on Instagram
With Mrs. Magpie in the city, nobody can complain of a lack of a cutesy, pink, and dainty little bakery. The charming fairy-tale décor, bright colored walls, cheery blossom pillars, white iron chairs, and tinted window panes, and neatly arranged small round tables, is sheer bliss to the eyes!
The place has an English vibe, and as one restaurant review put it, it's akin to falling down the rabbit hole and attending the Mad Hatter's Tea Party. The café is indeed one of the best places for your date!
Location: 570, Lake Terrace Rd, near Vivekananda Park, Golpark, Extension, Keyatala, Kolkata- 700029 
Also, at EC- 6, Near City Centre 1, Salt Lake, Kolkata- 700064.
Food to watch out for: Hot Chocolate, Chicken Potpie, Cheese Quiche, Sandwiches, Cream Cheese Brownie, Nutty Praline Cupcake, Marshmallow, and Raspberry Cupcake. 
Similar Places: Cocoa Bakery, The Wise Owl Café, 8th Day Café.
Wokies
View this post on Instagram
This place will surely blow off your mind as it is India's first-ever 2D monochromatic Café! Situated just opposite Menoka Cinema Hall, the 2D effect of Wokies is so brilliantly done that we feel we are in a wonderland. It basically serves Chinese cuisine along with few Thai & Korean dishes. 
Location: 6, Sarat Chatterjee Ave, Lake Range, Kalighat, Kolkata- 700029
Food to watch out for: Grilled Pork Salad, Spider Chicken, Honey Glazed Prawns, Turkish Coffee, Spinach Corn Fried Rice, Tod Mun Pla, Udon Noodles, and Chicken Meatball.
La Artisan Café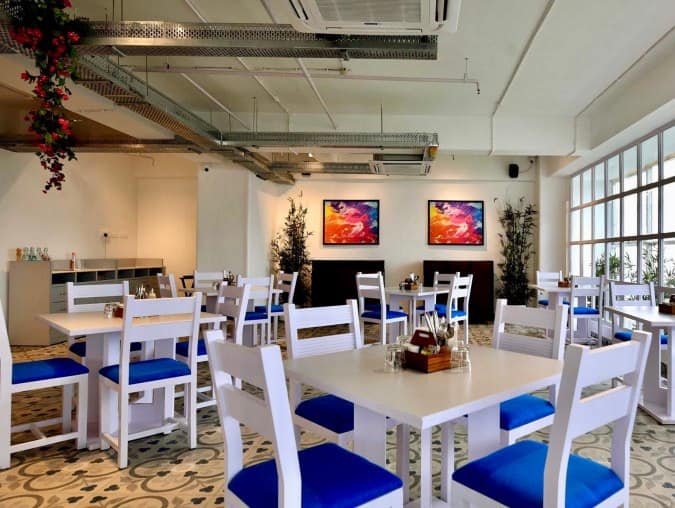 Image: Zomato
Has Santorini in Greece always been on your bucket list? And you had some great plans of ticking that off since last year? Well, well, well. We've got you covered. This new 64-seater café at New Town is indeed a slice of Mykonos in the City of Joy with its Mediterranean-inspired décor.
The minimalist décor- whitewashed walls, blue windows, and beautiful floors make it one of the most Instagrammable spots in the city! With no wi-fi and charging point, the café aims to detach us completely from the virtual world. And not just its décor, the eclectic cuisine will surely bewilder you!
Location: 02-0108, Street Number 95, BG Block (Newtown), Action Area I, Newtown, Kolkata, West Bengal 700156
Food to watch out for: Whipped Burrata with Cherry Tomatoes, Arugula and Basil Pesto; Honey Pumpkin Soup; La Artisan Fluffy White (their signature dish); Mississippi Madness; Shepherd's Pie; Funghi di Artigiano. 
Similar Places: Travelistan.
Tribe
View this post on Instagram
Kolkata has cafes covering an array of themes. And how can this culturally rich city miss out on books? Definitely not! Tribe in Golpark is a paradise for book lovers. The brightly colored walls, blue and white squared flooring with over 2,000 books, a couple of guitars, paintings, photographs, a treasured collection of board games make the café stand out among others. Also, the walls adorn tin frames of old brand ads like Rolls Royce, Coca Cola! and Vim.
There's a certain old-world charm about this place that deeply connects with the city. And very recently, Tribe celebrated the 100th birth anniversary of the legendary filmmaker Satyajit Ray through film posters and covers. The food here is also pretty reasonable and tasty. 
Location: 67, Gol Park, Ballygunge Gardens, Gariahat, Kolkata- 700019
Food to watch out for: Chicken Smokey Grilled Sandwich, Polpettes, Caesar Salad Wrap, Spanish Omelette, Coffee, Macaroons.
Similar Places: Bon Appetit, Panchamer Adday.
Ubuntu Community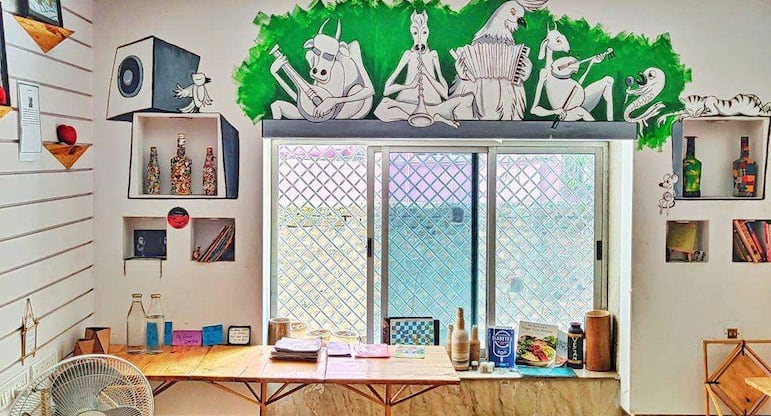 Image: Zomato
All of my Vegan friends might be wondering by now that there's no 100% vegan place for them. But no, hang on! We've got you covered. Ubuntu Community Café is Kolkata's first eco-friendly, zero waste Vegan Café. They serve 100% plant-based food, and it can be rightly said that sustainability is at the heart of this café. They also provide various vegan and eco-friendly essentials, including plant-based milk, curd, protein powder, bamboo toothbrush, bio-degradable straws, and more.
It has a beautiful hand-painted interior, and they have used waste pieces of wood and seats of Omni Van and Taxi as their sitting space. The menu is so exciting that it can even drive a non-Vegan crazy to try them!
Location: 188, 85, Prince Anwar Shah Rd, Jodhpur Colony, Lake Gardens, Kolkata-700045
Food to watch out for: Chicken Biriyani, Chyngri Bhapa, Unmutton Biriyani (all these mock meats are made from soya), Fysh Fry (made from soy products and seaweed), Lime Cheezecake topped with Nolengur(cheese is made from plant-based ingredients).
The Country House
View this post on Instagram
The serene vibe of this café is definitely another great option for your dates and me-time. The Country House, with its classic photogenic décor- bougainvillea plants adorning the whitewashed façade, golden frames, huge French windows, beautiful wrought iron lamps, seems like another page out of the Pinterest book.
The menu offers an array of continental dishes, both vegetarian and non-vegetarian. And besides the delectable food and vintage ambiance, the café also organizes open mic sessions where poetry reading is held along with solo and band performances.
Location: 4C, Allenby Rd, Sreepally, Bhowanipore, Kolkata, West Bengal 700020
Food to watch out for: Cinnamon Coffee, Fish, and chips, Peri-Peri rubbed grilled chicken, sandwiches, English Breakfast, Pancakes, Mojito.
Similar Places: Café 4/1, Paris Café, Roastery Coffee House. 
Hugo and Finn
View this post on Instagram
While we have numerous options to choose from for our hangouts, with a heavy heart, we have to leave our pets at home as nearly all the cafes do not allow pets. Don't our pets feel bad about it? Here again, Kolkata has a place that warmly welcomes our paw-some friends. Hugo and Finn, named after the co-owner's pet dogs, is an aesthetic café off Little Russel Street.
The sunshiny interiors, blush pink walls, black-and-white patterned flooring, chic countertops, hanging lamps, and ceiling make it a dainty postcard-perfect paradise. The café emanates total London feels to one. Alongside coffee being the soul of the place, it has numerous scrumptious food options to choose from. 
Location: 5B, Little Russel St, Kankaria Estates, Park Street area, Kolkata- 700071
Food to watch out for: Teas and coffees, Avocado and Feta Smash on Toasted Rye, Fruit Loaded Muffin, freshly baked croissants, Smoked Salmon, Chicken bagel with scrambled egg. 
Similar Places: The Love Room.
Here's wishing you good luck in exploring the microcosmic world of cafes in the gastronomically rich city of Kolkata!
This article has been written by Swarnali Dutta.
Cover image: Wokies/Twitter
For more such interesting content, follow us on Instagram and Facebook.
Also, read: