The romance genre in anime has always charmed and mesmerized its audience. It has the ability to warm our hearts (or break it, sometimes) by following the lives of people who overcome obstacles and smile through tragedies for the sake of a simple, four-letter word – love. The world of anime takes romance a step further with outstanding animations and the display of soul-stirring emotions.
Anime romantic movies belong to a category that is often thoroughly explored by most anime buffs. Animes have always managed to create a fantasy world that is gripping and, simply put, splendid. These are usually set in a world quite different from our own and yet transport us to this imaginary world.
Some of us have developed taste in this segment through these anime romantic movies. If you are a sucker for anime or want to watch romantic anime, these movies will make you fall for this genre more than ever.
15 Finest Anime Romantic Movies That Are
A Must-Watch
Weathering With You (2020)
Filled with post-modern scenes and instances of magical realism, in this movie, you would be lost in a world similar to the kind Haruki Murakami creates in his novels. Released originally as "Tenki No Ko," this story revolves around an aspiring writer and a girl with magical powers.
As the leads explore their powers and talents, their fates collide, and they fall for each other. In addition to being a beautiful romantic drama, this also has an amazing playlist with soulful melodies that would make your day.
I Want To Eat Your Pancreas (2018)
Okay, before you stop reading – this one is a cute and moving movie where no organs are eaten. I Want To Eat Your Pancreas portrays brilliant writing that will move you to tears and remain with you long after watching it.
It follows the story of a vivacious girl, her fatal pancreatic disease, and her aloof classmate who finally makes a friend. And she remains with him for the rest of her life. This one will surely change how you look at life and become your favorite. Definitely recommended!
Your Name (2016)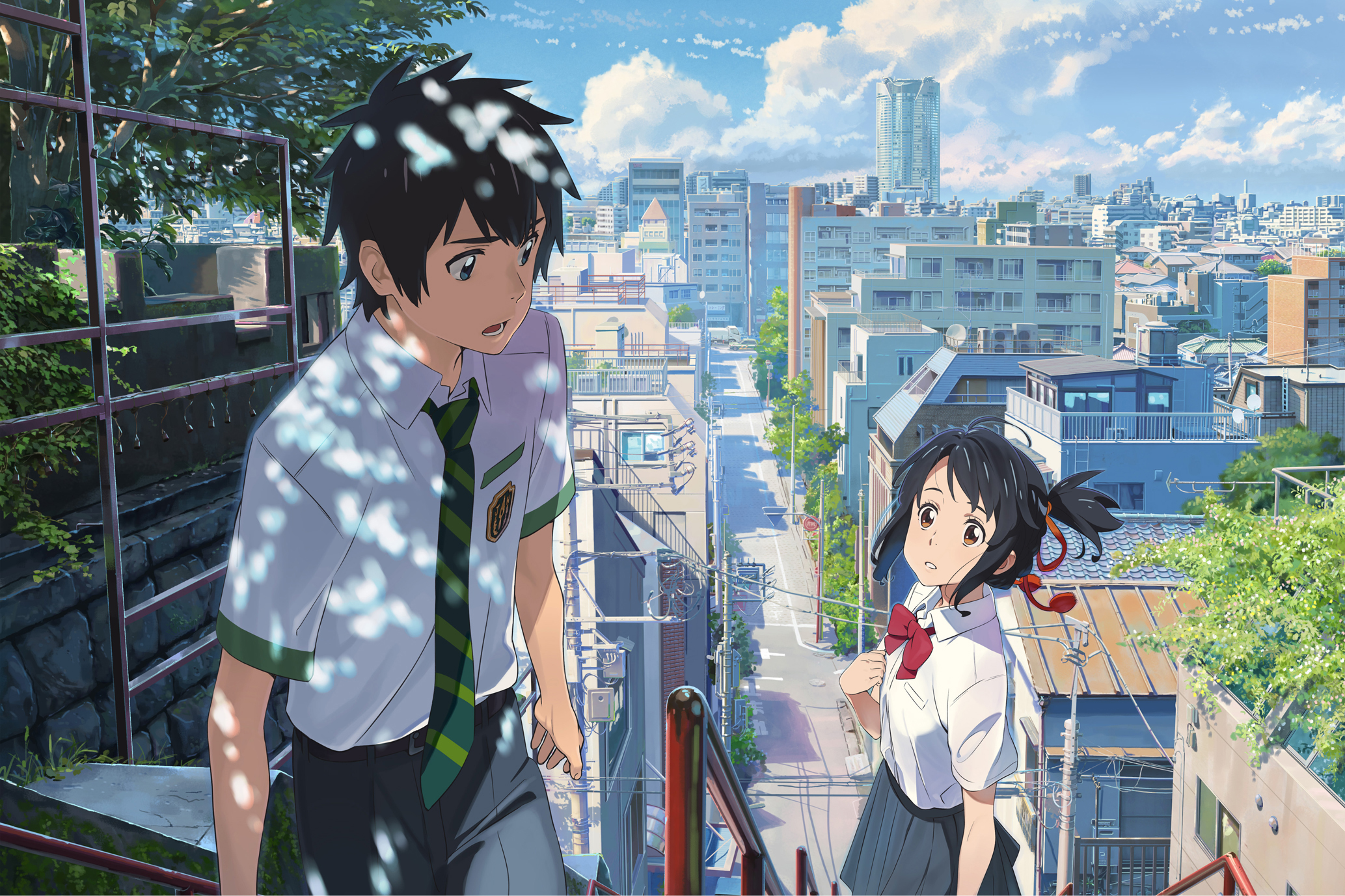 Originally known as "Kimi no Na Wa," the plot of this anime romantic movie revolves around two high school students – A girl living in a small town and a boy living in the heart of Tokyo. As these two began swapping bodies on some days, they got glimpses of each other's lives in two different parts of the country.
This movie is an uncommon take on high school romance and the concept of love altogether. With its beautiful music and storyline that stands out, this anime movie in the romantic genre earned more than 388 million USD and was one of the year's highest-grossing movies.
Dou kyu sei (2016)
The title translates as "Classmates" and is based on a cute relationship that began to blossom between a straight-a student and a singer in an all-boys school. The story depicts a beautiful journey of innocent high school love and the ups and downs. A great addition to the LGBTQ anime romantic movies, this is an adaptation of a series of Manga written by Asumiko Nakamura.
If you have loved Heartstopper or Call me by Your Name, you will fall for this one too absolutely. You can also read the series before you start to watch this romantic anime and if you REALLY like this, don't worry; there are different sequels and spin-offs and many fan fiction of classmates too!
A Silent Voice (2016)
Although the title of the movie is a paradox in itself, the story highlights several issues often faced by teenagers – bullying, mental health, disability, suicide, love, and compassion. The lead is a former bully who is not so social anymore and a girl with auditory disabilities – their journey is filled with road bumps and some hard-hitting turns that would leave you overwhelmed. If you need to watch romantic anime that would help you get into it, A Silent voice might be a good choice!
I've Always Liked You (2016)
The world of anime has no dearth of cute teenage love stories that feel like being wrapped up in a warm blanket. I've Always Liked You is another feel-good anime romantic movie that you shouldn't miss. Although it has a simple storyline (and a LOT of songs), it stands out because of its pleasing characters and visually appealing animation. This one has a mixed review from our end – it might become one of your favorites, or you might pass it along as cliche. Anyhow, I've Always Liked You is definitely worth watching to find out!
The Anthem of The Heart (2015)
A super wholesome high school romance movie, the story shifts between two young couples in love. The movie has a range of plot points that would make you fall head over heels for it. Unlike many Anime-Romantic movies on the list, this is a simpler story about friendship, music, and, most importantly, love. The Anthem Of The Heart or "Kokoro ga Sakebitagatterunda" spans several years. The movie might leave you in tears with a heartfelt and happy ending.
Tamako Love Story (2014)
Tamako Love Story is a truly heartwarming tale of two toddlers growing up together, falling in love, and struggling as teenagers to confess their hearts out. This anime romantic movie has sprinkled emotions in all the right places to make it cute and wholesome overall.
Tamako Love Story beautifully portrays the sweet torment of young hearts in love and the relief that follows after the first steps toward confession and acceptance. It combines comedy and romance to result in one of the finest masterpieces in the world of anime. Just plug in Tamako Love Story on any day you want to feel good, and it will work its miracle.
The Garden of Words (2013)
A romantic drama anime movie, this, unlike most, was initially made into a movie and was later converted into Manga and novelized. The Garden of Words, or "Kotonoha no Niwa," is especially remembered for its theme song, "rain." A rather twisted tale of love – the story revolves around a 15-year-old student who likes to design and craft shoes and a 27-year-old woman.
Although the story spans a period, this anime romantic movie delivers a well-rounded plot to its audiences. However, given the plot, it has received quite some mixed feedback from critics. You can watch this romantic anime yourself and find out!
Kaze Tachinu (2013)
Released with the title "The Wind Rises" in English, this is a periodic anime romantic movie that is a fictional biography that depicts the beautiful love story of Jiro and Nahoko. Apart from having a whole-hearted story, Kaze Tachinu also shows some of the disasters and epidemics that marked the world in the 20th century – Including the TB epidemic, the great depression, and even a huge earthquake. The catastrophes of the time and the kind of love that blossoms in these difficult times make this film a great watch.
From Up On Poppy Hill (2013)
This story is set in a conflicting time in post-Second World War Japan. The anime romantic movie depicted the time around 1963 when the country was preparing for the Olympics. The younger generations were still dealing with the history they hadn't yet managed to shake off. Amidst all this, the two lead characters fall in love while renovating a dilapidated clubhouse.
The two high school students uncover some dark moments from their past. The movie is an emotional ride – encompassing a socio-political aura and a blooming love story.
To The Forest Of Fireflies' Light (2011)
Okay, who thought ghosts could be so cute? We don't blame Hotaru for falling in love with one. Hotarubi no Mori e (in Japanese) walks us through a short, forty-five-minute tale of a young girl getting lost in the spirit forest, being saved by one, and falling in love with him as she grows up. But what's the catch?
This ghost has a curse on him to disappear if he ever touches a human. Into The Forest Of Fireflies' Light will take you on a roller coaster ride of emotions that peak towards the end. We challenge you not to cry! This one will become your personal favorite – the one you will keep going back to, again and again.
5 Centimeters Per Second (2007)
Do you know the speed at which cherry blossom petals fall? Read the title again. 5 Centimeters Per Second speaks to your heart with its subtle concepts and bitter-sweet approach to love. It is not your typical fairytale romance and attempts to be more realistic in its approach.
The tears in your eyes towards the movie's end will tell you that it succeeded! Add it to your anime romantic movies list, and please go for this phenomenal piece of work only on the days when your heart is ready to take in some bitter truths of life.
The Girl Who Leapt Through Time (2006)
You have probably guessed from the name that this will be science fiction. You are right, though. This is a story of a girl who discovers her secret superpower one day – the ability to time travel. While this proves to be a majestic power, she keeps getting stuck in a time loop.
A cross-over between romance and science fiction, this is a great watch if you don't want to watch mainstream anime romantic movies. With some magical sequences and an amazing portrayal of the concept of time travel, This is one of the best anime romantic movies you will find.
Voices of a Distant Star (2002)
If you are into intergalactic stories, The voice of a distant star is the perfect pick. This romantic anime movie is about two childhood sweethearts who are separated when one of them goes to space to fight a battle. This story is gripping and full of heartfelt moments, a rather innovative approach to long-distance relationships, and how two people in love communicate when they are worlds apart (literally!). It has a wholesome plot that would leave you in awe.
Let us know which romantic anime movies you find the most interesting.
For more such interesting content, follow us on Instagram and Facebook.
This post is written by Titas Banerji and Alish Jaiswara.
Also, Read: