We are sure true anime fans can relate to what we are saying. Anime is also about its production. They all share distinct aesthetics, and if we find them visually appealing, we are more likely to watch them. Here we have anime movies with a brilliant combination of characters, plots, and visuals.
Look at the 10 must-watch Anime movies with brilliant plots and twists. We all love brilliant plots, but it's more than that when it comes to Japanese anime movies specially created by Studio Ghibli.
10 Must Watch Anime Movies With Brilliant Plots And Twists
Spirited Away (2001)
One of the most liked anime movies by Studio Ghibli, this movie is a story of a girl named Chihiro.  A shortcut leads a family to an unknown place. Their 10-year-old daughter is left alone in a world of ghosts, witches, and sorcerers, and her fate depends on her remembering one thing; her name. This is one of the must watch Anime movies from Studio Ghibli. 
Howl's Moving Castle (2004)
A self-doubtful young woman is cursed with an old body by an evil witch. Her only hope to break the curse lies in support of an insecure young wizard and his companions.  
Ponyo (2008)
This Anime movie is based on the wonder of nature and the power of friendship. A young boy finds a goldfish, nothing like any other fish. She wants to become a human after falling in love with him, and her transformation will unleash an unbelievable event, something no one has seen before. The cute character of Ponyo turning into a girl makes this a must watch Anime movie on the list.
Whisper Of The Heart (1995)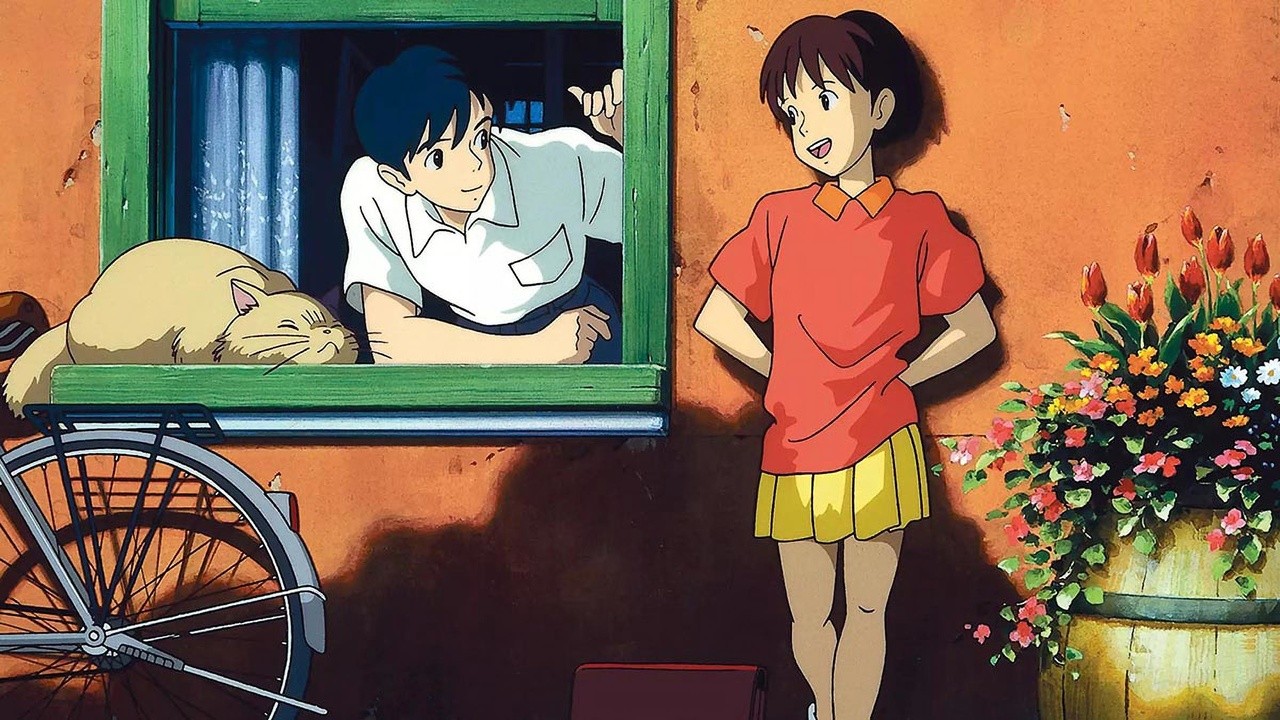 A story where a mysterious cat connects young lovers. A girl who is passionate about books and a boy who has checked out all of the library books she has chosen. 
Castle In The Sky (1986)
Above the clouds stands a castle where a young boy and an enchanted princess with a crystal must discover the castle's secret and save it by racing against pirates and foreign agents.
Your Name (2016)
A girl and a boy swap places while sleeping and experience life through each other's bodies the next morning. Some days they are in their own body, and other days, that's not the case. They form a connection and are curious to know that distance will keep them apart. 
The Wind Rises (2013)
An awe-inspiring story of Jiro Horikoshi, the man who created the Japanese fighter plane during the 2nd world war. It is one of the best-animated movies. 
A Silent Voice (2016)
Years back, a young man bullied a deaf girl to such an extent that she had to move away. Later, when he realizes the truth of his own deeds, he sets off on the path of redemption. 
When Marnie Was There (2014)
Anna, who loves to be alone and lives with her relatives in the countryside, meets a girl named Marnie. She doesn't know who she is but seems familiar to her. So she decides to help her with her life situation despite Marnie being mysterious. 
Kiki's Delivery Service (1989)
While supporting herself by running an air courier service, a young witch finds it difficult to adapt to a new town in her mandated year of independent existence.
These were some of the must watch anime movies. Let us know which anime movies you find the most interesting.
For more such interesting content, follow us on Instagram and Facebook.
Also, Read: