The movie series has three parts: Before Sunrise, Before Sunset, and Before Midnight. The story begins with a random conversation between Jesse and Celine, who connect instantly and gradually on a deeper level.
Here are some Before Trilogy Quotes that gave us to ponder about. Let's eavesdrop on what insightful things they have to say.
Before Trilogy Quotes That Gave Us A Lot To Ponder About
"Isn't everything we do in life a way to be loved a little more?"
One of the best Before Trilogy Quotes of the very first part, this statement is nothing but pure facts. There might not always be underlying motives behind whatever we do, especially for our loved ones, but deep within, each hopes to be loved just a little more.
"I guess when you're young, you believe there'll be many people with whom you'll connect. Later in life, you realize it only happens a few times."
Throughout life, we come across a lot of people. While, as kids, we think that all the people that we meet are eventually going to stay with us, the reality is learned along the path of growing up that there are only a few people with whom we make a true and deep connection and honestly, that is more than enough!
"You realize that most of the people you meet are trying to get somewhere better, making a little bit more cash, getting a little more respect, having more people admire them, you know… it's just exhausting!"
We, humans, are never easily satisfied. Even when we fulfill some of our biggest dreams, the thirst for more may not get quenched, and thus, there goes the never-ending ladder of self-satisfaction, a delusion that only a handful of us realize.
"You can never replace anyone because everyone is made up of such beautiful specific details."
Each one of us is unique and beautiful in our way. The way someone smiles, their eyes squint while focusing on something, and so on is absolutely their own and irreplaceable and beautiful.
"If you want true love, then this is it. This is real life, and it's not perfect, but it's real."
Source: Yahoo
Many of us have this idea of love being like a fairytale where nothing ever goes wrong, and everything is just right. However, the reality is far from it. Love has as many ups as downs, but the world witnesses these imperfections that make an imperfectly perfect life.
"I think I'm always much happier with books, movies, and stuff. I think I get more excited about well-done representations of life than life itself."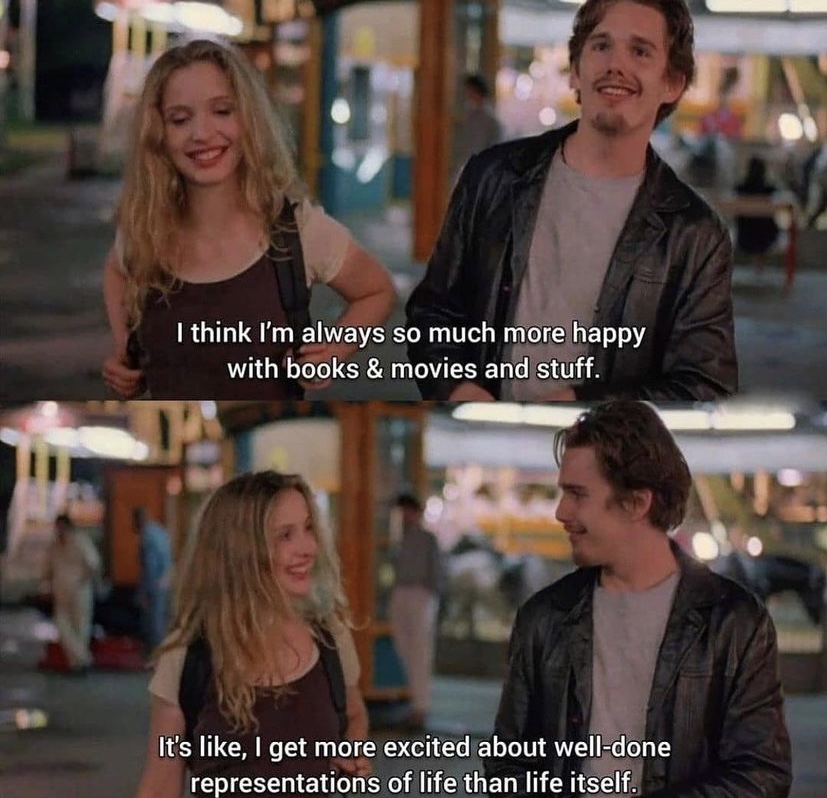 When this statement was made, the introverts in us felt seen. Haha! When life gets a little unpleasant, and it doesn't feel easy to walk ahead, art, in the form of books, movies, paintings, and whatnot, is our go-to source of comfort. Its beauty makes the unbearable days more bearable and makes way for a ray of sunshine through the gloomy clouds.
"You are both stars, don't forget. The stars exploded billions of years ago and formed everything in this world. The moon, the trees, everything we know is stardust. So don't forget. You are stardust."
In moments when we feel low, hearing comforting words like these is what makes the heart happy. It reminds us of the magic we all carry within, brings out the life that shines within us, and once again helps us get our spirits back.
"But not knowing is not so bad. The point is to be looking, searching, to stay hungry."
Ignorance is not always a bad thing. Sometimes not knowing is better for us than knowing something. However, the seeker in us must not die. The curiosity, the zeal to know, must never diminish because who knows what may be found!
"You have to be a little deluded to be motivated.."
Often, even when doing the things we love or just about life in general, we all tend to get demotivated, and having a completely practical approach to things doesn't always serve us. But then there comes the power of dreaming a little more, which keeps us going and is the key to a brighter future for mankind.
Let us know which Before Trilogy Quotes made you awestruck.
Also, read: