After almost two years of not being able to step into a theatre properly, 2022 brought some normalcy with the relaxation of Covid-restrictions. We finally went to watch our favorite actors on the big screen again.
However, we can all agree that this hasn't exactly been a good year for Bollywood, especially with a plethora of relatable content available on the various OTTs. Plus, the intermingling of Politics and Cinema didn't do much good.
Nonetheless, some movies managed to win our hearts and deepen our love for Bollywood. We have curated a list for your 2022 Recap in movies!
7 Bollywood Movies That Touched Everyone's Heart In 2022
Jhund
Jhund is a Biographical sports film based on the life and work of Vijay Barse, who founded the NGO called "Slum Soccer." Amitabh Bachchan Playing Vijay Borade is just about stunning. The background score and the football matches spread throughout the movie make it super entertaining. Sports films are anyway fun to watch.
Apart from football, Jhund is also a commentary on how a little initiative can transform people's lives. It also carefully tackles the issue of looking down on people who reside in slums and how this perspective affects the "slum children" in hindsight. If you haven't watched it yet, but love Chak De India or Dangal, you would pakka love this too. 
Rocketry: The Nambi Effect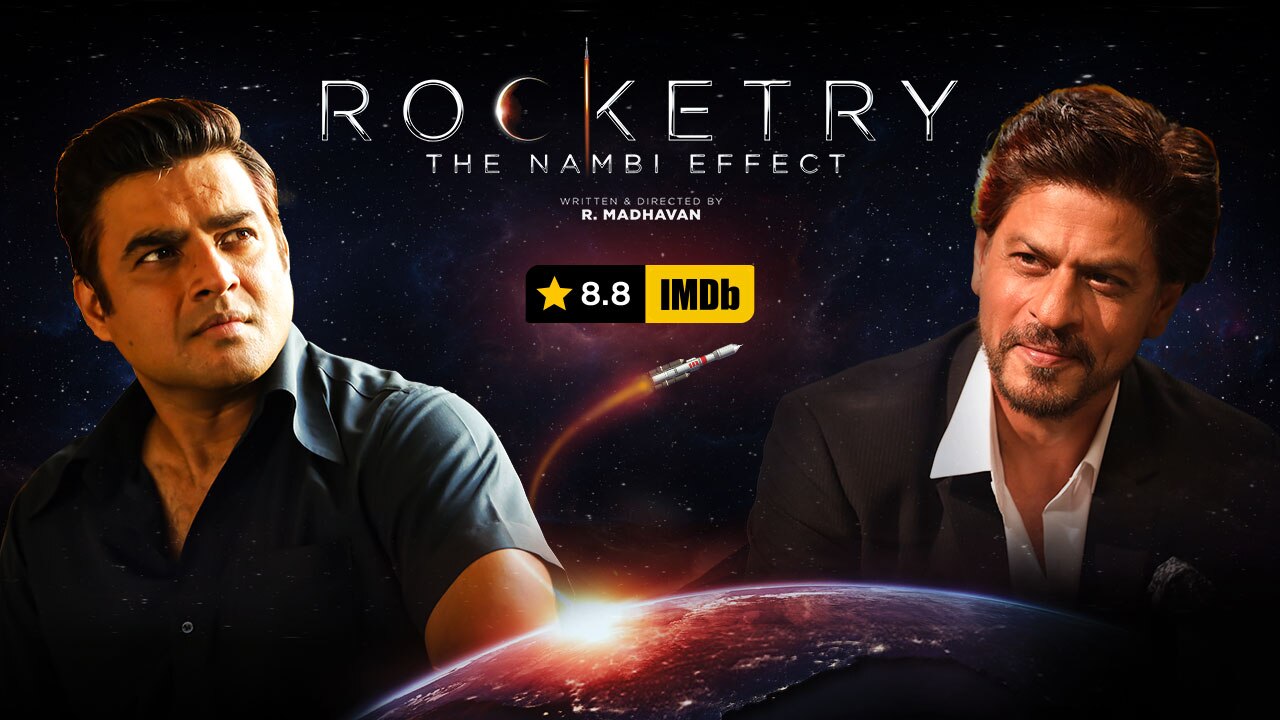 An IMDB-rated 8.8 Biographical Drama, Rocketry is written, directed, and produced by R. Madhavan. In his directorial debut, Madhavan highlights the story of Nambi Narayanan – an aerospace engineer with the ISRO. The movie begins with Madhavan playing Nambi, narrating his life in an interview – his days in Princeton as a scientist with ISRO and the false Espionage charges that led to his arrest and his family's ostracization.
Spanning over a few decades, the movie shows his journey to prove himself innocent, return to the organization, and play a significant role in the Mangalyaan Mission. The story beautifully sums up into a frame showing Nambi Narayan receiving the Padma Bhushan manages to make the audience teary. Although it didn't do great at the Box Office, the movie is a wonderful journey in itself.
Darlings
Released in August, this was a directorial debut of Jasmeet K. Reen, and she clearly knocked it out of the park. A dark comedy that revolves around the widespread but stigmatized problem of Domestic violence, darlings provides a fresh take on the issue. You can see each of the characters evolve as the story progresses.
With an ensemble cast including Shefali Shah, Alia Bhatt, Roshan Matthew, and Vijay Varma, the acting has you completely on board within minutes. It is a movie you can keep going back to for the effortless humor (and Vijay Varma). No wonder Darlings got more than 10 million watching hours just a couple of days after release – the highest for a non-English movie in the world! 
Vikram Vedha
For all the Hrithik Roshan fans out there (hi-five!), he plays the good old "imaandaar chor" again! The movie is about a constant conflict between SSP Vikram and the underworld Robinhood Vedha Betal – The good and the bad. Except in a very wise concluding scene, they leave it up to the audience to decide. While it's quite noticeable that the female characters are severely underplayed, and the "item song" Alcoholia is Jarring sparing Hrithik's dance moves, the movie is a great thriller.
Bollywood hasn't been able to provide its audience with an edgy thriller in a while, and this re-make of a 2017 Tamil film of the same name does fill that gap. Plus, if you are into folktales and remember the Vikram-Betaal stories, the name and the concept are inspired by that. Vikram-Vedha is a somewhat gory but entertaining thriller and is a perfect weekend watch for people who love the genre. 
Doctor G
Starring Ayushmann Khurrana, Rakul Preet Singh, Shefali Shah, and Sheeba Chaddha, Doctor G is a "medical campus comedy" that entertains you in a classic Ayushmann Khurrana style. The plot revolves around a medical student who wants to specialize in Orthopaedics but gets a seat in Gynaecology instead. Uday's journey toward accepting the department he has gotten into and trying to lose "the male touch" is truly intriguing.
Indraneil Sengupta's character as a chauvinistic man beneath the facades of a progressive person plays a rather important role in providing the contrast between the two worlds highlighted in the movie. Tackling serious storylines with a humorous touch is Khurrana's forte, anyway!
Monica, O My Darling
Starring Rajkumar Rao, Huma Qureshi, and Radhika Apte (😍😍😍), this movie is a dark comedy and a Crime thriller – falling into a genre described as "neo-noir." The movie is about a man named Jayant and his journey as a crime is being investigated in his factory. You'd see hilarious twists throughout the movie, and Rao is spectacular in the scenes with his delivery and quick wit. Apte as ACP Naidu trying to solve the crime would keep you engaged throughout.
Adapted from a Japanese novel called "Burutasu No Shinzou" – this movie takes a few steps ahead of the mainstream stories. A wholesome movie combining thriller and comedy, this could be the perfect watch for New Year. 
India Lockdown
Although the name itself is self-explanatory, the movie focuses on the consequences of the nationwide lockdown that came with COVID-19. Released on 2nd December, the story presents different perspectives on lockdown and how a sudden shutdown affected different people in unfathomable ways. Life doesn't stop, and so, much like us, these characters come up with their own ways of dealing with the problem at hand.
India Lockdown will take you back to 2020 and give you goosebumps as it reveals itself. You would remember the days at home, with uncertainty, looking forward to some normalcy. Take some time off this New Year's eve, and watch this heartfelt story on ZEE5.
If you don't have any plans for New Year yet, don't worry, these movies have your back. All you have to do is get cozy and get yourself some popcorn – or whatever snack you like! 
For more such interesting content, follow us on Instagram and Facebook.