Hostel Daze brings back recollections of our time spent in hostels. You may have reminisced about happy times while watching the program's first season. Many other fans, like us, are looking forward to Hostel Daze season 2 to relive their college days. They are ecstatic to learn when the Hostel Daze season 2 release date. They also want to hear about the hostel daze season 2 cast name, season's plotline, actors, and plot. So, to keep them informed about the next season, we've put together the most up-to-date information. So, here is what we've learned thus far.
Why Should You Watch Hostel Daze Season 2 | Hostel Daze Season 2 Cast Name
Hostel Daze Season 2: Why we love it
In Season 1, we saw a narrative about premier Engineering Colleges in India, where students from various families come to study after passing a difficult competitive exam hoping for a better future. It has presented us with a graceful image of engineering students who, while living in hostels, manage their workload pressure, arguments, and various other challenges throughout their four-year academic session.
Three Millennials, Ankit, Chirag, and Jaat, played the major characters in the first season of Hostel Daze, who became roommates in unexpected scenarios. They overcome taunting, exams, and cooperative dating with senior Jhantoo by supporting each other.
On the one hand, these guys attempt to make themselves known to their fellow hostel mates. Still, on the other hand, they fail to recognize that, in addition to producing pleasant memories, they are also creating negative ones that will follow them for the rest of their lives.
You may have noticed that the entire story centered around the first semester of the course when viewing the Hostel Daze season 1 episode. As a result, we anticipate that the tale of Hostel Daze season 2 will be based on the remaining semesters.
You may agree that the actors in the series' first edition did an excellent job. As a result, the producers will not want to change them, and changing the cast will also jeopardize the series' popularity.
Hostel Daze Season 2 Cast Name: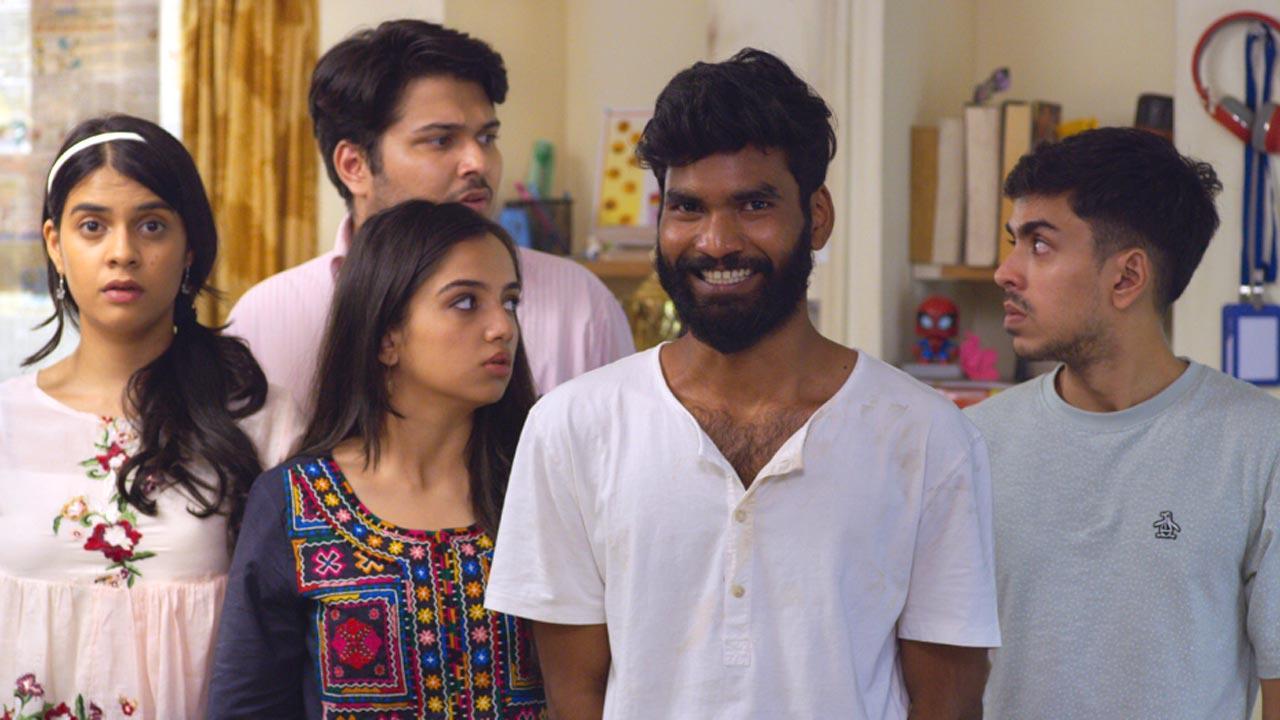 Many reliable sources also claim that previous season stars will return for the second season. As a result, the stars who will be seen in the upcoming season are-
Adarsh Gourav is the character of Ankit Pandey.

Luv Vispute will reprise his role of Chirag Bansal.

Ahsaas Channa will be seen as Ankit's crush.

Ayushi Gupta will play the role of Nabomita.

Sahil Verma will portray the character of Rakhi.

Shubham Gaur will deliver his role of Rupesh Bhati(Jaat)

Nikhil Vijay will portray the character of Jatin(Jhantoo).

Harsha Chemudu will reprise his role as Ravi Teja.
Hostel Daze Rating:
After seeing the exceptional 8.6/10 stars on IMDb, everyone wants to watch the drama's first half. If you haven't seen season one yet, you still have the chance to do so. This is not a free web series; it is exclusively available to Amazon Prime members who pay a monthly fee. Other digital streaming partners, such as Disney+Hotstar, Netflix, Zee5, MX Player, and Voot, do not offer it. 
Hostel Daze Season 1 summary:
Freshmen Chirag Bansal and Rupesh "Jaat" Bhati begin their new adult lives at an engineering college in "Hostel Daze." Another newcomer, Ankit Pandey, shows up in their hostel room. The group notices that Ankit, rather than Chirag, has been assigned to the room. The situation is discussed with the warden.
One of them will have to share a room with Jhantoo, a newcomer who has been staying in the hostel for quite some time. Ankit accepts to live with Jhantoo despite knowing he is boisterous and a poor influence. Under the guise of ragging, their seniors place the trio in a humiliating predicament, which Jhantoo saves them from. Jhantoo urges the three to become housemates because they want to thank him for doing something kind.
Ankit is having trouble adjusting to hostel life and forging his identity among the tens of thousands of pupils. Chirag and Ankit try out for various extracurricular clubs, but none of them is a good fit for their skills or personalities. Chirag eventually gained notoriety by filming and posting his lessons online. After the truth is out, Ankit, covertly and inadvertently sharing porn, becomes famous.
During chemistry practicals, Ankit is approached by Akanksha, a girl with whom he is smitten. Ankit's pals persuade him to attempt dating Akanksha. He starts texting Akanksha, and their friendship grows. Ankit expresses his sentiments, and the two agree to go out on a date. Jhantoo, posing as Akanksha, has been texting Ankit. The word quickly spreads around campus, and Ankit quickly becomes the college's laughingstock. When Akanksha sees Ankit's struggle, she gives him her genuine phone number, and they begin a sincere relationship.
Ankit's birthday approaches quickly, and he tries to conceal his true birthday in order to avoid the hostel's harsh birthday celebration. Ankit hides in the library when the birthday boy receives a thrashing (birthday bumps). Nabomita, his lab colleague, is there when he arrives. Nabomita has a thing for Ankit and arranges a wonderful birthday celebration for him.
Ankit's pals think he's poor, and he's embarrassed that he won't be able to spoil them on their birthday. Ankit will be surprised at a party that they have planned for him. On the other hand, the group becomes outraged when they find that Ankit is celebrating his birthday with Nabhomita and Lolly. Ankit apologizes for telling them the truth. The gang celebrates Ankit's birthday, but they end up giving him birthday bumps after Nabomita reveals the terrible things Ankit said to her about his pals.
The end-of-semester exam is a night away in the season finale. Chirag is relying on Ankit and Jhantoo to assist them in passing the exam. Chirag, on the other hand, must attend to his sick legal guardian. Ankit and Jhantoo understand they're doomed and rush to finish the course in one night. The duo comes up with a solution after a series of failed tries.
Ankit and Jhantoo understand that the same question paper is repeated every year near the end of the finale, after numerous fruitless attempts to study. They try various methods to obtain the previous year's question paper, but they are unsuccessful. Then Jaat admits that he already has the answers to all of the questions. The trio scribbles down the answer key and offers some advice to other nervous pupils. The top students are having difficulty on the exam. Ankit, Jaat, and Jhantoo scribble down everything they've snatched.
The trio notices that the question paper for this year has been reset as soon as they exit the examination hall. The season closes on a cliffhanger, with no indication of whether the trio will pass the exam. They likely devise a plan to pass the exam. After all, the trio is incredibly resourceful, and the person in charge of inspecting the paperwork closely relates to Jaat. As a result, they probably cheated on the exam by bribing the examiner. The likely scenario is that they will fail the exam and must retake it. This failure could serve as a wake-up call, prompting the three to devote more time to studying in the future.
When the group celebrates Ankit's birthday in the fourth episode of the season, they tease him by dubbing Nabomita his girlfriend. On the other hand, Ankit is quick to point out that they are merely friends. Nabomita certainly cares about Ankit, but she hasn't acknowledged her love for him. Ankit, on the other hand, has a thing for Akanksha.
Ankit buries his affections for Akanksha as the season progresses in favor of a friendship. However, he is still smitten with her because he becomes nervous speaking with her. Meanwhile, Ankit feels more at ease conversing with Nabomita and treats her like a friend.
As a result, there's no reason to think the two are dating. It's a traditional love triangle that could be explored more in future seasons.
Hostel Daze Soundtrack:
The soundtrack album for the new online series "Hostel Daze season 2," which premiered on Friday, is a jumble of emotions that takes you through the highs and lows of college life.
Jimmy Joy composed four songs for the album: "You gotta rise," "Don't hold back now," "Coming Home," and "Jeans daaru sutta love."
Jimmy Joy and Ashish Anand's vocals on "Jeans daaru sutta love" from Hostel Daze season 2 sum up college days in just four syllables.
Soft, lyrical numbers include Tulika Mijar and Jimmy Joy's "Coming Home" and the composer's "Don't Hold Back."
"The nostalgic factor present in Hostel Daze season 2's tracks will transport listeners back to their college days and allow them to relive those bittersweet recollections.
"Not only the Amir-Sangram director duo, but all of the TVF creators have been extremely helpful in the creation of these songs," said Shreyansh Pandey, Head, TVF Originals.
"Hostel Daze is a series with a wide appeal. It's a relevant subject, which is why we needed to compose music that fit the story. "Each of the four tracks is entirely different from the others since they reflect four different emotions," said TVF President Vijay Koshy.
Hostel Daze Season 2 Official Trailer | Amazon Original
Read More: