A game of sports never fails to surprise and excite us. Not only the players and officials but also the fans at times steal the spotlight for a moment! Besides some interesting posters and messages, there have been instances when the fans expressed their feelings during an ongoing game in a packed-up stadium!
Here are some of the romantic and heartwarming proposals right from the galleries!
Women's Big Bash League, 2019
Women's Big Bash League, 2019: Adelaide Strikers
This is indeed the best post-match celebration for cricketer Amanda Jade Wellington! After a 6 wicket victory over Melbourne Renegades in October 2019, the Adelaide Strikers player was surprised by her partner with a marriage proposal!
The whole team is seen cheering the young couple as Amanda accepts the proposal of having wedlock with her partner! This was posted by Adelaide Strikers on their official Twitter handle and was loved by all the fans and followers!
Olympics Rugby Finals,2016
Olympics Rugby Finals,2016: The Knot News
Olympic Finals are the most awaited events that never fail to amaze us! But the 2016 Rugby Final was absolutely a surprise! Brazilian player Isadora Celluro was asked in marriage by manager Marjorie Enya after the final match. 
Though Brazil completed at the 9th position in the tournament, this incident was certainly joyous and cheering for the team. After the final between Australia and New Zealand, Enya gave an emotional speech after which she went on to ask Celluro for wedlock! This moment is one of the most dramatic ones in the Olympics' history! 
India vs Pakistan, World Cup 2019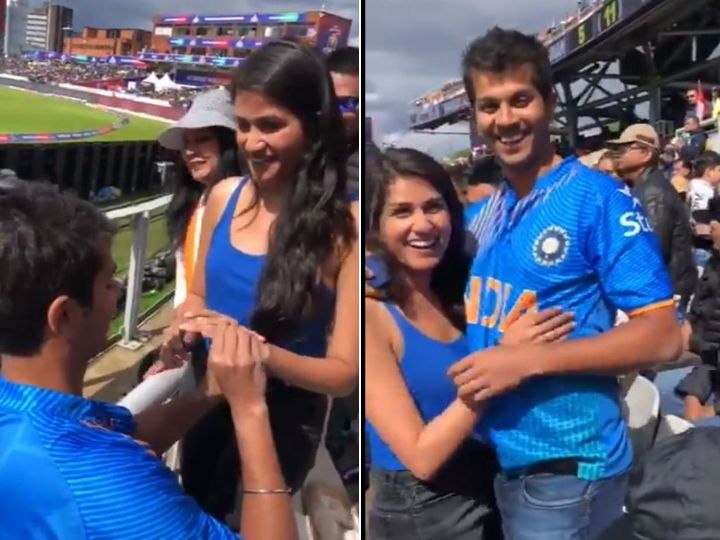 India vs Pakistan, World Cup 2019: ABP News
India Pakistan cricket match is always a high tension one particularly when it comes to a World Cup match! The 2019 World Cup Match not only witnessed a high-intensity game but also cherished a romantic moment!
While Pakistan was chasing the target, Indian fan Anvita was surprised to see her partner on the knees! The man with a ring in his hand proposed to his girlfriend for a marriage! The whole crowd cheered as the couple got hitched and they cherished the moment with a hug! 
Major Soccer League, 2021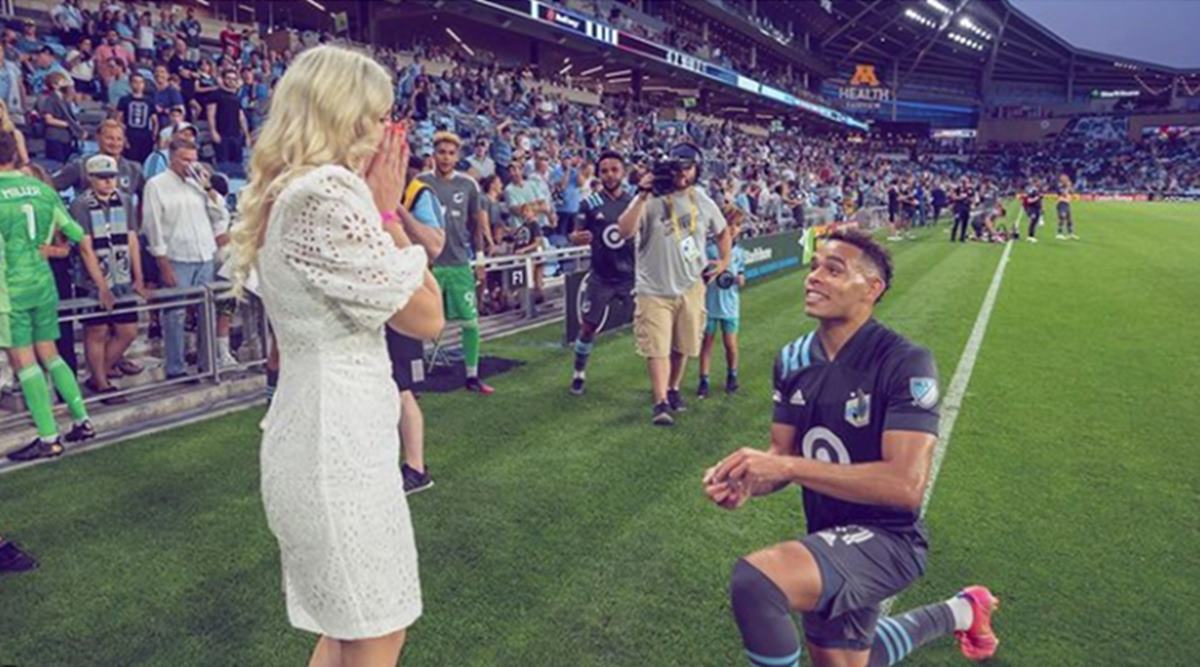 Major Soccer League, 2021: Indian Express
American Footballer Hassani Dotson Stephenson proposed to his girlfriend in July this year in the presence of stadium-packed fans! After a match against San Jose Earthquake, Hassani went down on his knees with a ring to propose.
His partner Petra Vukovic affirmed the proposal and the whole stadium cherished the romantic moment! The excited fans cheering them certainly made the couple feel blessed and loved!
India Vs England, 2018
India vs England 2018: Sports India Show
England's Lords Stadium has witnessed some amazing moments! Adding to the list was this 2018 marriage proposal during the India England ODI at the Lords!
A man surprised his partner as he took out a ring with the ultimate question to her! Commentator David Llyod was found excited witnessing this romantic moment. Soon after this moment, Twitter was trending with #LoveLords as many people congratulated and showered their love for the couple!
Romanian Division Match, 2019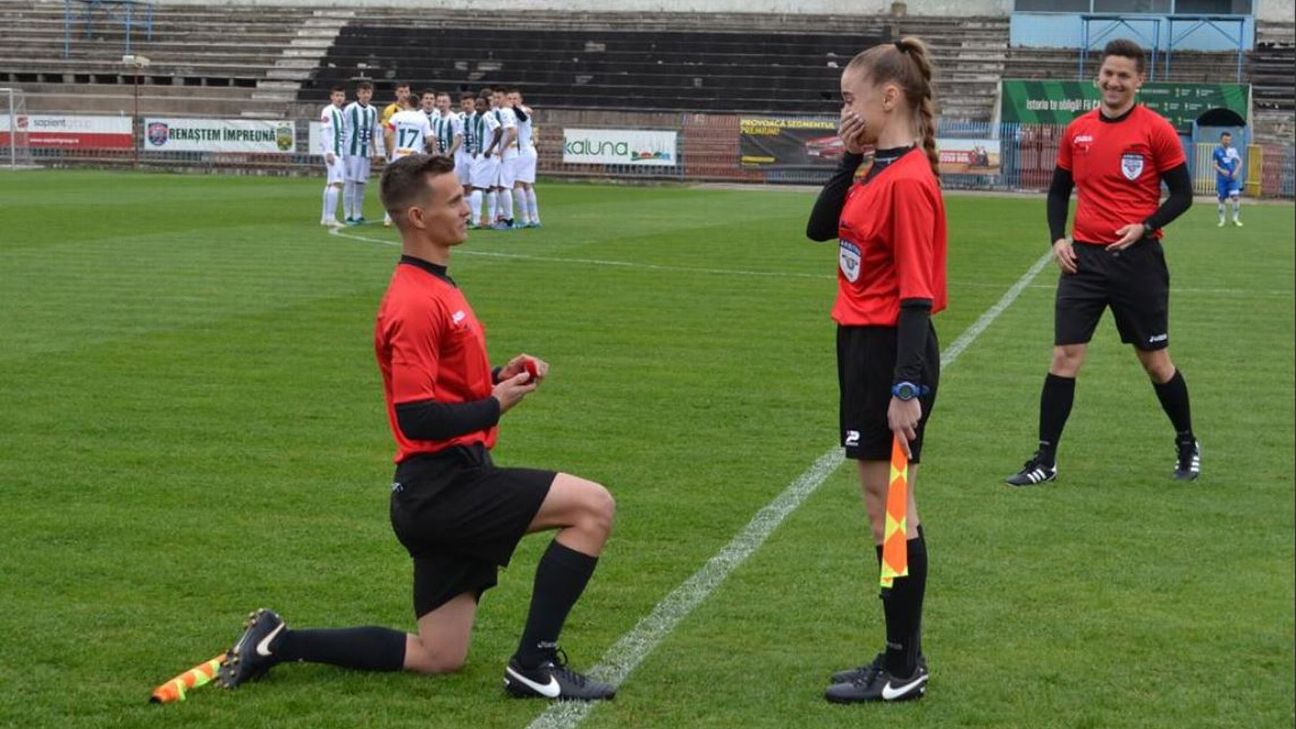 Romanian Division Match 2019: ESPN
This is one of the most heartwarming moments in football history. On 7th April 2019, just before a Romanian 4th division match assistant referee Marius Matica went down on his knees to propose to his fellow referee and girlfriend, Gyorgi Duma. This romantic moment was witnessed by all the players and officials on the pitch!
This surprise proposal was shared by the Romanian journalist Emanuel Rosu on Twitter, soo after which the netizens showered their love and affection to this incident!
India Vs Australia, 2020
India vs Australia, 2020: Cricket Australia
This is indeed the most viral proposal that we have come across! Indian fan Dipen Mandaliya proposed to his partner Rosilie Wimbush during an India Australia game in Sydney!
Cricket for both of them has been special and thus proposing during a game was the best decision for Dipen. Their romantic story is as dramatic as the proposal as posted by the couple on Instagram!
This moment was cherished by all of the netizens and was even shared by some famous personalities!
Indian Premier League,2021
Indian Premier League 2021: The Quint
Indian Premier League is the most amazing cricket tournament! Fans eagerly wait for some amazing and stunning moments from the IPL. This year too the fans were delighted as bowler Deepak Chahar proposed to his girlfriend!
As Chennai's match against Punjab ended in Dubai, Deepak went on to his partner, Jaya Bhardwaj with the ultimate question! The couple was seen cherishing the moment as Jaya accepted Deepak's proposal. This heartwarming instance was shown love by all the fans over the internet!
These were some of the heartwarming instances we witnessed while a game! These moments are indeed joyful and cheering both for the couples and the fans!
Comment down below your favorite and heartwarming instances from a Sports match!