This article will mention such Vijay Antony movies that you must watch and the platforms they are available to watch on.
If versatility has a name, it would be called Vijay Antony. A man of many talents, Vijay Antony started as a music director and was the first Indian Music Director to win the auspicious Golden Lion at the 2009 Cannes for the song Naaka Mukka. He ventured into acting in 2012 with the crime thriller Naan and has since then acted in some well-known action flicks. With this, he also works as a lyricist, editor, audio engineer, and singer. 
Over the years, Vijay Antony has come a long way, garnering a lot of praise for his works and thus creating a massive fandom. Here are some Vijay Antony movies that you can add to your watchlist that will prove him actor/music director as a  man of several talents.
Vijay Antony Movies That Keep The Entertainment
Quotient Up
Naan (2012)
Starting with Vijay Antony's debut movie, Naan, is a 2012 crime drama about an ex-convict who steals a dead man's identity to start a new life. With his identity, he enrolls in a medical college and starts studying. The smooth sailing days get over soon when one of his friends starts suspecting his identity and eventually gets killed by him. 
Naan is a brilliantly made crime drama that portrays the workings of a psychotic worker very well and thus is a must-watch from any Vijay Antony movies list.
Available on – ZEE5
Pichaikkaran (2016)
A never seen before action thriller that was very well received by audiences and critics alike and ranked at the top of any Vijay Antony movies list is this 2016 movie titled Pichaikkaran.
It revolves around a rich businessman whose mother suffers from a tragic accident and becomes comatose. With no hopes of her betterment, one day, a priest tells him that his mother will get better if he starts to live like a beggar. Chaos ensues when on the one hand, he finds an institution where doctors use patients for experiments, and on the other hand, he falls in love with a girl who doesn't know about his true identity and intentions. 
One of the best Vijay Antony movies, it was remade in Odia, Marathi, and Kannada and, thus, deserves to be on your watchlist. 
Available on – YouTube 
Kolaigaran (2019)
A recent entrant to the list of Vijay Antony movies is this action crime drama Kolaigaran, about a former IPS officer, Prabhakaran, who surrenders for a murder. When DCP Karthikeyan is assigned this case, it takes several twists and turns, leading to a shocking reveal.
Loosely based on Agatha Christie's mystery novel The Body in the Library, Kolaigaran is a very well-made thriller that will keep you second-guessing the motives of the characters involved in the murder, will provide you with a lot of twists and turns and will surely be an entertaining watch that will keep you at the edge of your seats.
Available on – Disney plus Hotstar 
Salim (2014)
The second movie from Vijay Antony movies list is this action drama in which he reprised the character of Dr. Mohammed Salim from the 2012 movie Naan. A sequel to Naan, which is set two years after the events of the first one, this one is about Dr. Salim taking the law into his own hands when things go overboard. Although he practices ahimsa now, the situation forces him to act in such a way and thus makes the enjoyable movie watch.
It was well received by audiences and critics alike and is a fitting sequel to the first hit one. Watch it for Vijay Antony's strong performance, the melodious music composed by him, and the engaging screenplay.
Available on – Disney plus Hotstar 
Yaman (2017)
Another action thriller from Vijay Antony movies list is the 2017 movie titled Yaman. Revolving around Tamilarasan, aka Yaman, who loses his father at the hands of greedy politicians and vows to seek revenge. With this, he also realizes how the world of politics works on greed and corruption and seeks to finish that as well. 
Vijay Antony also works as a music composer in this hit flick which was very well received by the audience and ranked high on any Vijay Antony movies list.
Available on – ZEE 5 
Saithan (2016)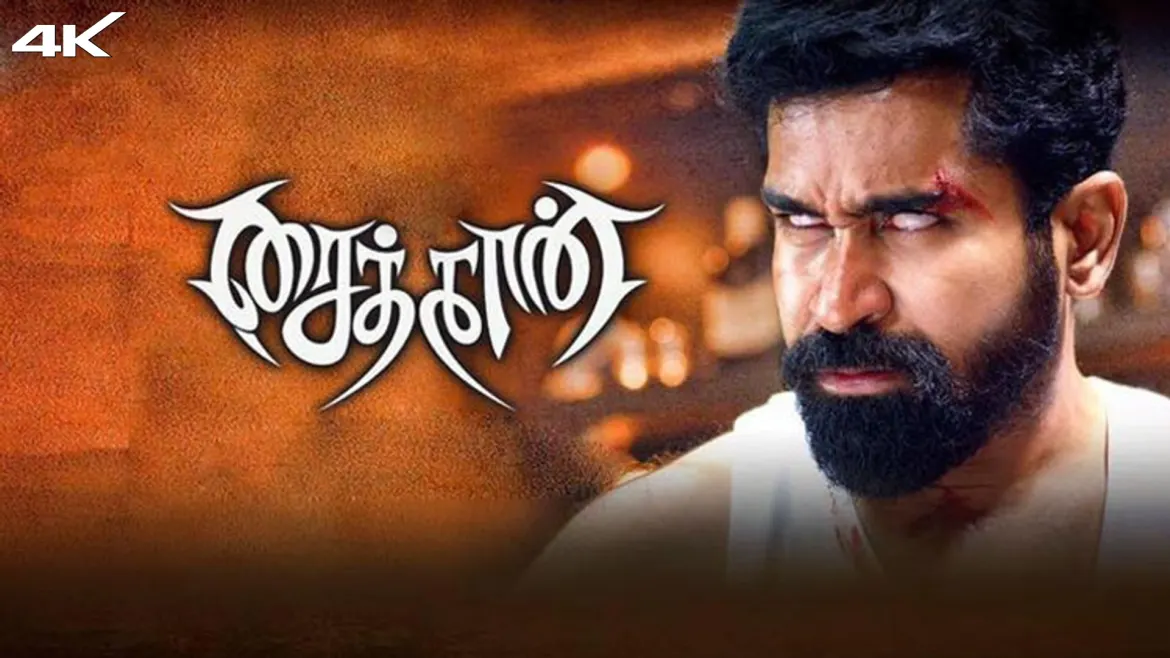 A slightly different venture from the usual Vijay Antony movies is this 2016 fantasy action movie about a man named Dinesh who starts hearing a voice that is asking him to kill a woman, which leads him to investigate his past life and solve a murder.
Vijay Antony's performance for playing dual roles garnered a lot of praise and made this a perfect Vijay Antony movie to watch over the weekend. The fantasy aspect blends well with this clever action thriller and manages to entertain you to the fullest. 
Available on – ZEE5
Traffic Ramasamy (2018)
Moving away from the action thriller zone of Vijay Antony movies, this 2018 movie is a biographical drama based on the life of veteran social activist K. R. Ramaswamy, who worked on controlling traffic-related issues in the state of Tamil Nadu, earning the nickname Traffic Ramaswamy.
The movie stars veteran director S. A. Chandrasekhar, Prakash Raj, Rohini, and many more, with Vijay Antony appearing in a special appearance. The movie is a must-watch for its story, screenplay, and acting performances.
Available on – YouTube 
India Pakistan (2015)
Another different venture in the Vijay Antony movies list is this 2015 romantic comedy in which he plays an advocate. Due to financial problems, he has to share a rented room with another advocate, played by Sushma Raj. After landing the same case, they discover that they share the same profession, not knowing what dangers await them. The chemistry of the lead pair will leave you mesmerized, which takes the viewers on an entertaining journey of how these characters learn to co-exist and defeat their powerful enemy.
A perfect mix of comedy, romance, and drama that will manage to keep you hooked till the end, India Pakistan is a refreshing watch that stands apart from several action thrillers in the Vijay Antony movies list.
Available on – ZEE5/Prime Video
Annadurai (2019)
Another action thriller venture from Vijay Antony movies is in which he plays the double role of polar opposite twins, Annadurai and Thambidurai. Annadurai is a drunkard who grieves the death of his girlfriend and is the subject of the wrath of his entire family, except his mother, whereas Thambidurai is a simple, well-mannered PT teacher who is loved by the family. Things take a turn when Annadurai is arrested, and Thambidurai starts to walk on the path of violence after realizing that the world isn't doesn't help innocent people.
Vijay Antony shines in the dual role of brothers Annadurai and Thambidurai and provides a brilliant performance that cannot be missed.
Available on – YouTube 
Thimiru Pudichavan (2018)
Vijay Antony plays the character of Murugavel, a police officer who discovers that his brother has turned to a life of crime and is committing petty crimes for a local gangster in this 2018 action drama. When Murugavel sets out to transform his brother's life to set him aside from the life of crime, the brother sets out to kill him.
This gripping tale of two brothers going against each other is a perfect mainstream hi-fi action flick to watch over the weekend.
Available on – YouTube 
What title will you be watching from this Vijay Antony movies list? Do let us know!
For more such interesting content, follow us on Instagram and Facebook.
Also, read: