Whoever penned down the phrase – laughter is the best medicine – couldn't have been more right! Comedy movies have always added a touch of humor and positivity to our everyday lives. This can easily be the best genre of all because there isn't anything a good comic relief can not help us overcome. 
In Bollywood, several legends have mastered this area and have us doubling up in laughter just with their presence. We have dedicated this article to one such legend: Paresh Rawal! His dialogue delivery, timing, and expressions have made him an evergreen actor in the realm of Bollywood comedy. With this, we present you with some of the best Paresh Rawal comedy movies of all time.
Andaz Apna Apna (1994)
Andaz Apna Apna is one of the finest Paresh Rawal comedy movies in Bollywood. Here he plays the dual role of Ram Gopal Bajaj, an uptight disciplinarian, and his evil brother Shyam Gopal Bajaj (or Teja), a local gangster. Of course, Paresh Rawal does justice to both his roles with his epic acting skills and dialogue delivery.
Like most of his movies, he has an iconic dialogue that makes us laugh every time. Andaz Apna Apna is truly a cult classic that was way ahead of its time and still provides meme-worthy material to our generation. The movie also features other comedy kings of this industry like Amir Khan, Salman Khan, and Govinda. Definitely needs to be on your Paresh Rawal movies list.
Hera Pheri (2000)
Baburao Ganpatrao Apte has doubtlessly become a household name after the epic success of Hera Pheri. This has been one of the best-written characters of all time brought to life by Paresh Rawal. Paresh Rawal movies list is incomplete without this gem. Hera Pheri does not have a single scene that makes you want to stop laughing and sit with a straight face – yes, it is that good.
Babu bhaiya is now an eternal name that can still be heard in our day-to-day conversations and of course, memes. This movie also had a sequel released in 2006 named 'Phir Hera Pheri with the same set of actors. If possible, it was even better. Hera Pheri and Phir Hera Pheri definitely need to be on your Paresh Rawal comedy movies list.
Hungama (2003)
True to its name, Hungama has a lot of misunderstandings and confusion throughout the movie that leads to hilariously funny sequences. Here, Paresh Rawal plays the role of a multi-millionaire businessman with the heart of a true desi Indian.
When he moves to the city with his wife, a whole new world unfolds. With an excellent plot, fantastic acting, and of course drop dead funny scenes – you could binge-watch this one for days together! Hungama is packed with one-liners that, when coupled with Paresh Rawal's comic timing, will undoubtedly leave you in splits. This one cannot be missing from your Paresh Rawal movies list!
Garam Masala (2005)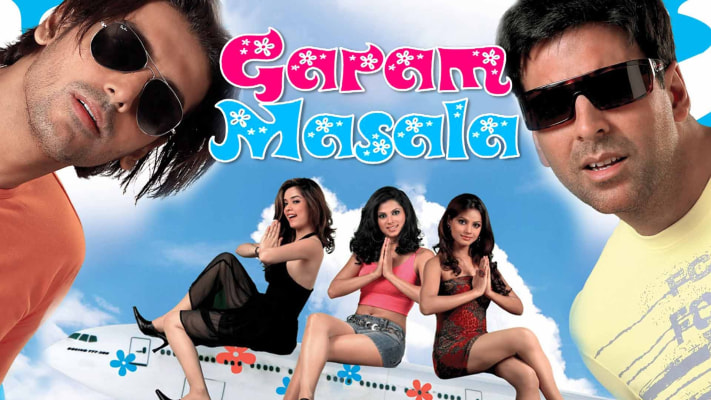 Packed with the best comedy actors, Garam Masala is another gem in the world of Bollywood comedy. It would not be wrong to say that this movie has developed a cult following over time and can be watched over and over again without getting bored.
Here Paresh Rawal plays the role of Uncle Mambo – a servant with an 'attitude problem'. With a straight face, he makes us drop to the floor with laughter. Garam Masala is also packed with other comedy kings like Akshay Kumar and Rajpal Yadav. Bollywood just does not make comedy movies like these anymore. Add it to your Paresh Rawal comedy movies list!
Bhagam Bhag (2006)
Bhagam Bhag is another movie directed by Priyadarshan that came out to be a huge success. Bollywood comedy is indeed incomplete without Priyadarshan and Paresh Rawal. With perfectly timed dialogues and world-class acting, there is not a single boring moment in the entire movie.
This one definitely deserves a place in the best Paresh Rawal movies list. Along with comedy, Bhagam Bhag also has drama, suspense, and full-on entertainment. Paresh Rawal gives us his best as Champak Chaturvedi – the owner of a theatrical group in India. A fantastic plot, superb actors, and amazing songs make this movie high on the list of Paresh Rawal comedy movies.
Bhool Bhulaiyaa (2007)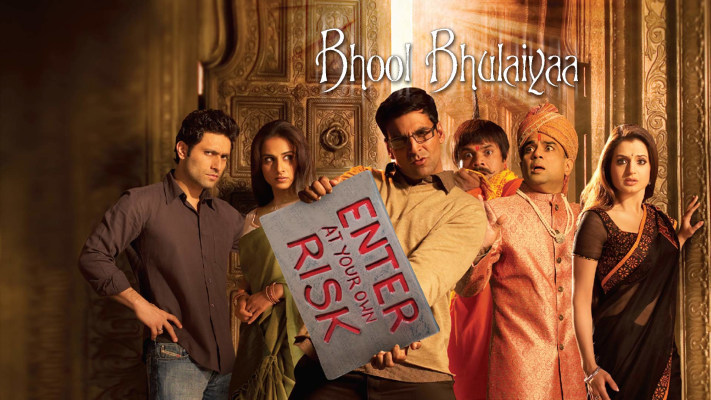 Bhool Bhulaiya is a comedy horror film with loads of hilarious scenes thanks to actors like Paresh Rawal, Akshay Kumar, and Rajpal Yadav. This Priyadarshan film has amazing direction, screenplay, and top-notch performances. Bhool Bhulaiya was a movie that was way ahead of its time and also dealt with issues like mental health.
Paresh Rawal does justice to the role of Batushankar Upadhyay, making us laugh with his presence. He is one of the best supporting actors, and Bhool Bhulaiya would definitely be incomplete without him. And Paresh Rawal movies list would be incomplete without this movie. It is a must-watch!
Welcome (2007)
The humor in Welcome has the capacity to rock your socks off. It is one of the best Paresh Rawal comedy movies with other world-class actors like Akshay Kumar, Anil Kapoor, and Nana Patekar. The movie revolves around the mission of marrying a Mafia sister into a respectable family. What follows is a series of lies, confusion, and misunderstandings that leave the audience in splits.
Paresh Rawal as Ghungroo Seth has some memorable dialogues and one-liners that are still quoted today in our conversations. If there is one movie you will be watching from this list, let it be Welcome first!
One Two Three (2008)
There is something about the mindless comedies of the 2000s that just make you laugh non-stop despite being silly if you really think about it. One Two Three is a two-hour hilarious roller coaster you would not want to stop riding. It is refreshing, feels good, and has characters that will stay with you for a very long time.
Paresh Rawal never fails to make us laugh with his epic comic timing, facial expressions, and world-class acting. Add it to your Paresh Rawal comedy movies list and watch it when you feel like freshening up and relieving your mind of all the stress.
This was our Paresh Rawal movies list! How many of these have you watched already? Let us know in the comments.
For more such interesting content, follow us on Instagram and Facebook.
Also, read: