Ayan Mukerji's epic fantasy film Brahmastra: Part One – Shiva is roaring at the boxing office and has revived Bollywood, which was under a significant dry spell since the pandemic. With this, Brahmastra has also opened many doors for big-budget Bollywood fantasy films to produce in the near future. But, this isn't the first time Bollywood has produced fantasy films.
With Bollywood and Fantasy, it has always been hit & miss; Either the films have won the audience over or were an absolute star-studded mess. Over the years, let's check out some Bollywood movies in the fantasy genre.
10 Bollywood Fantasy Films That We Either Truly
Love Or Utterly Hate
Jajantaram Mamantaram
Based on Jonathan Swift's most popular work, Gulliver's Travels, Jajantaram Mamantaram was an earnest attempt to bring such a type of story to the big screen. The visuals looked crisp for its time and thus made it an enjoyable watch, making it a huge part of our childhoods.
Aabra ka Daabra
A sloppy knock-off of the beloved Harry Potter franchise, Aabra ka Daabra tried hard to be at par with it. Sadly, the jarring visuals, predictable story, unoriginality of the material, and unnecessary product placements made it a huge disappointment. The most memorable aspect of it is the hilarious Pretentious Movie reviews episode.
Ra.One
Released a decade ago, Ra.one was a superhero movie about video game characters that venture out into the real world. The villain, Ra.One sets out to find and kill Lucifer, who the game's hero, G.One, aids. The film was lauded for its never seen before visual effects and breathtaking action sequences but was heavily criticized for its story and screenplay, thus narrowing the possibility of a sequel.
Aladdin
Based on the famous Arabic Folktale, Aladdin was a fantasy kids' movie starring Ritesh Deshmukh, Jacqueline Fernandes, and Amitabh Bachchan. The film drew heavy criticism for its story and visual effects and was declared a flop at the box office.
Paheli
A lesser-known Shah Rukh Khan and Rani Mukherjee film, Paheli is a fantasy drama about a wife whose husband leaves for a business trip shortly after their wedding and is then visited by a Jinn, who is in love with her, disguised as her husband. The film mixes elements of fantasy and folklore, which struck a chord with the audiences and thus became India's official entry to the Oscars that year.
Taarzan: the wonder car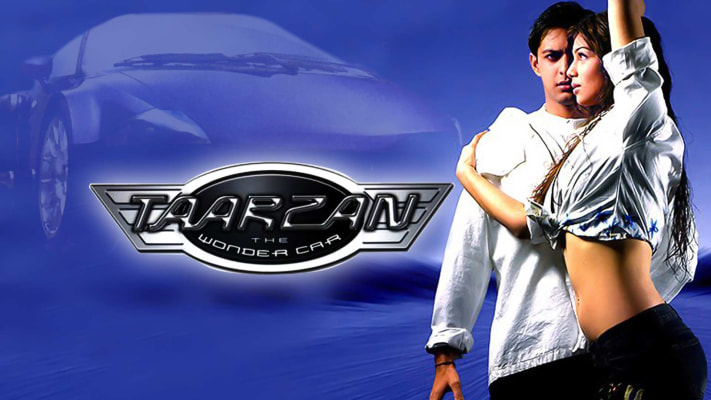 One of the most popular and nostalgic kids films from the early 2000s, Tarzan: The wonder car, was much loved by the younger audience. Revolving around a car that the protagonist's dead father drives, the film drew criticism for its story but remained popular with kids.
Krrish series
The long-running Krrish series has been one of Bollywood's most popular film franchises. Starting with the science-fiction Koi Mil Gaya, which struck a chord with critics and audiences alike, the franchise turned to the superhero genre with the next two films, becoming one of the most successful franchises in Bollywood.
Jaani Dushman: Ek anokhi Kahani
The infamous Jaani Dushman has been the talk of many memes and roasts for a few years. Marketed as a supernatural action thriller, it is considered one of the worst films ever made because of its terrible visual effects, action scenes that were copied from popular franchises like The Matrix and Terminator, appalling screenplay, bad dialogues, and substandard acting & direction.
What are some other Fantasy films made in Bollywood that you either truly love or utterly hate? Do let us know in the comments.
For more such interesting content, follow us on Instagram and Facebook.
Also, read: