When it comes to Bollywood horror movies, it has no scarcity. We were gifted with many Hindi horror movies that kept us awake at night for weeks; such is the power of Bollywood horrors.
So here is a list of our favourite 10 best Bollywood horror movies that didn't fail to give us nightmares during childhood.
10 Best Bollywood Horror Movies That Gave Us
Nightmares During Childhood
Raaz (2002)
One of the best Bollywood horror movies on the list is Raaz. The story revolves around Sanjana, who faces some dark secrets of her husband Aditya through a spirit that haunts her. This movie, which we all grew up watching, had us sleeping with our lights on and was one of the best movies of the Raaz franchise.
Darna Mana Hai (2003)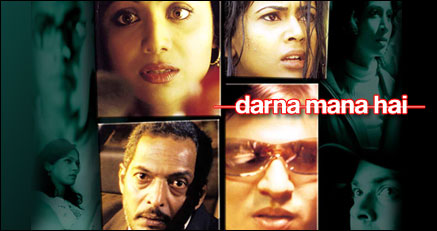 Seven friends' car breaks down in the middle of the night, so they seek refuge and pass the time by swapping stories until the sun comes up— stories that destroy both our sleep schedule and inner peace. Needless to say, the stories were such that they would haunt us during the day and give us nightmares during the night.
Krishna Cottage (2004)
Krishna Cottage was Ekta Kapoor's first Bollywood horror movie of the 2000s. A curse is unleashed as a group of friends accidentally opens an unfinished book from the 1990s; they need to tackle the evil together, putting aside their personal differences. Terrified of the outcomes of the events, we didn't forget to make a mental note, to never open any evil-looking books that don't belong to us. 
Kaal (2005)
Krish and Kaali investigate the presence of a man-eating tiger in Jim Corbett National Park while realizing that it's not an animal that's mauling humans to death but a supernatural entity. This Bollywood horror movie almost ruined the experience of a national park for us and left us trembling as we made sure to watch our back— lest something attacks us out of nowhere. 
Darna Zaroori Hai (2006)
When six children lose their way in a forest, they are met by an older woman in a haunted house, who then tells them six stories of pure horror, proving that not all grannies are loving and sweet. A story that gave us 'Hansel and Gretel' vibes, the only difference being the old woman didn't cook the children for dinner but instead cooked them with her horrific stories. 
Phoonk (2008)
Knowing that their atheistic boss is fond of his daughter, two of his estranged employees use black magic on her as her family struggles to rescue her from the clutches of evil. This Bollywood horror movie scared us to the point where even the most practical of us refused to deny the existence of supernatural entities for fear of pissing off the ghost— in case they exist.
1920 (2008)
An inter-religious couple, following a fallout with their families, moves on with their lives only for the man to discover that evil entities have possessed his wife. One of our favourite and the best Bollywood horror movies from the horror genre, this beautiful love story embedded with terror definitely had us re-watching it despite its scary nature.
Haunted – 3D (2011)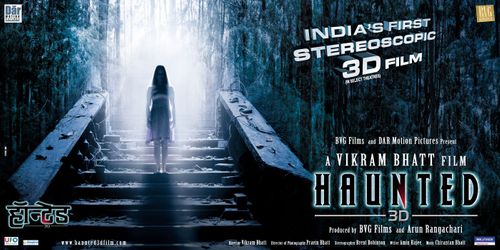 Expected to change the events of the past, Rehan, a real estate agent, is taken back in time to 1936 after he refuses to believe that Glen Manor— the property he's been planning to sell, is haunted. This horror movie scared us to our core, and we couldn't run fast enough from the washroom to the living room after switching off the lights due to the fear of getting grabbed by a ghost!
Horror Story (2013)
A group of friends decides to spend a night exploring a supposedly haunted hotel for fun, just to be murdered one by one, with only one of them making it out alive. As you may have already guessed, the one who survives is always the one who believes in the existence of supernatural entities, while the others are just impulsive clowns who disregard such things as bullshit. 
Bhoot (2003)
Though its previous tenant has committed suicide there, a married couple, Swati and Vishal, move into their new flat, and soon Swati acts arrange as she starts to have visions. Have you ever wondered what this obsession people have with haunted houses that, despite several warnings, they move in there, only to be murdered later? 
Which are your favourite Bollywood horror movies that kept you awake at night? Let us know in the comments.
For more such interesting content, follow us on Instagram and Facebook.
Also, read: