There is more than what you consider a typical lust-at-first-sight encounter in this web series. Released on 20 March 2020, 'She' (Netlfix) shows how an obscure drug dealer emerges from the shadows to pick up an associate at a nasty brothel in Mumbai.
He comes across several bodies. However, he seems interested in the one which contains a brain as well.
While they set off into the night, her anxiety keeps on escalating and keys him up. With the disclosure of her true identity as an undercover police constable, the coitus stops.
Bhumika surprises and arouses Sasya when she turns on her gun. It breaks off into a dance that keeps moving the first season of the series 'She' (Netflix) despite several unbalanced moments.
She Netflix Cast Review
Dawood Khan as Crime Branch Officer
Aditi Sudhir Pohankar as Bhumika Pardeshi
Vijay Varma as Sasya
Vishwas Kini as Jason Fernandez
Paritosh Sand as Sirish Mathur
Shivangi Rangole as Rupa
Suhita Thatte as Bhumi's Mother
Ajay Jadhav as Mhatre
Sandeep Dhabale as Lokhande
Saqib Ayub as Hemant
Bhakti Patharey as Receptionist at Crime branch
Prakash Sudarshan as Atul
Kishore Kumar G. as Nayak
Habib Aajmi Sheikh as Beggar
Jay Jha as Nayak's Man
Ranjith Reddy as Chiru
The plot of the popular female-based show
Filled with profane games, 'She' has been co-written by its creator, Imtiaz Ali and Divya Johry while Arif Ali and Avinash Das have directed this seven-episode series.
It is the streaming debut of Imtiaz Ali, who is otherwise renowned for directing popcorn romances. The creators did not restrict themselves to showcasing the acceptable.
Rather they rolled out the dirty talk and lustful activities. 'She' suggests that sexual slavery is a prerequisite for liberating the soul and body.
Bhumika's boy scout handler, Fernandez, coerces her into weaponizing her gender. Fernandez wishes to find out as to what Sasya and his boss, Nayak are planning.
The constable happens to be an appropriate but somewhat awkward pawn. Due to her sexual frigidity, her husband has turned her down.
Moreover, her sister seems to support her family through turning tricks. Both in her life as well as in the show, Bhumika's hypochondriac mother is a drag.
The initial encounter with Sasya leads to Bhumika's relaxation. Though not entirely erotic, it touches her unanticipatedly.
Sasya crudely points out that Bhumika has a scorpion between her legs and it resonates well with her. Sasya is the holder of multiple identities and the master of disguise.
With pick-up lines such as "You have no idea what I am going to do to you tonight" and "nobody looks at you as I do", Sasya's character increases the excitement of the crime thriller template.
The loopholes Of The Movie
Now the question is whether the bait becomes baited. Bhumika's predicament of her newly discovered desirability improving her self-esteem and freeing her of her reserve continues till the fourth episode.
Then the plot starts going off the rails and soon 'She' (Netflix) collapses into the regular busting exercise of drugs.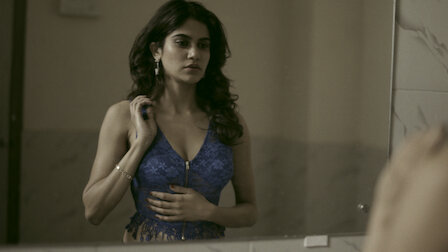 However, the concept of weaponizing sex and equalizing it adds some amount of sophistication. If voyeurs expect the material to embrace the seamy angle of Bhumika's secret mission, they are bound to receive disappointment.
The shooting style diminishes the erotica-with-clothes-on effect. With poor camerawork and frequent flashback scenes, 'She' has lost the building up of sexual tension in a lot of scenes.
The first meeting between the two central characters in the show s replayed so many times that it loses its sense of thrill. Similarly, the allusion of a sheathed scorpion to Bhumika is made to go blunt due to repetition. Unfortunately, after setting up the events in the series, the riveting Sasya is pushed to the sidelines.
Critics have stated that Vishwas Kini as Fernandez proves to be a weak link in the crime thriller. In such a tightly made series, the actors attached to the roles of the subtexts have no significant contributions and feel like a waste of time.
As a tale of a battered but unbroken woman, 'She' failed to come off as the story of those who cast off their gloom and embrace life after fighting their demons. However, the back story of the series provides some relief to the inconsistent narrative.
Also, Read:
She Netflix Season 2 Review
"More drama, more intensity, and so much more power. If you think you're prepared for what Bhumika does next, think again. Hold on to your seats, She Season 2 is now filming." – Aditi Pohankar
With its huge fan base, 'She' has become a top Netflix show of 2020. Therefore, the makers decided to renew it soon in March 2021.
However, with the onset of the second wave and the worsening of the pandemic, the shooting went underway but Imtiaz Ali has made announcements on social media regarding its second installment.
Aditi Pohankar (the lead character) has also revealed that the second season is now being filmed officially. There are expectations that new faces will come up to bring about more excitement in this storyline.