Indian Dads have this one thing in common: being hard on the outside and soft on the inside. So whether it is ek thappad padega or apna dhyan rakhna, there's love lying in all the catchphrases. It is hard to find love in the former, but according to them, there is love in their thappad threats too.
On this father's day, we have compiled a list of things we have heard from our dads at least once. Dive in to find out how many have you heard. 
Typical Things Indian Dads Say
Haa beta aur paise udao, paise toh ped pe ugte hai na?
Yes, son/daughter spends all the money; of course, you think money grows on trees? 
This would be on top of the list if there were a universal thing common among all the Indian dads. We're lowkey amused at how common our lives have been. 
Engineering chodhkar photographer banna hai, Aree hasenge log.
So you want to be a photographer instead of an engineer? People would laugh at you. 
How dare you choose any other profession than dad's pre-approved engineering? There is simple logic in Indian households. First, you become an engineer, then choose a dream career if you have any left after pursuing engineering. 
AC aur fan sath mein kyu chalana hai? Sirf fan chalao.
Why are AC and fan both on at the same time? Only use the fan.
The fan would alone cool the entire room nicely; why do you need AC or switch on AC for some time and switch it off again. Why do you need both? Have you also heard similar things from your dad? Please tell us we are not the only ones. 
Agar hum humare papa se aise baat karte toh ek thappad padta abhi tak.
Had I talked to my father like that, I would have been slapped by now. 
So there it is. A threat you can't fight because you haven't been an adarsh balak like him. It is absolutely your mistake to talk back, and a typical Indian dad's behavior is to show what an obedient child he was and how you should be the same. 
Thodi savings karne ki aadat dalo, kaam aayegi
Start the habit of saving money; it will help you. 
Whatever you say, dads have the best instincts regarding financial matters and will always advise you to foster the habit of savings. When they say they have seen it all, they quite literally have seen it all, and savings always help you. 
Abhi phone chala raha hai, hum kuch kaam bolenge toh padhai yaad aajaegi.
Oh, so now you're using your phone, when I will ask you to do something, suddenly you'll remember to study.
We ask again how Indian dads have the best sarcastic digs to take at you even when you are sitting peacefully in a corner doing absolutely nothing. And why do their digs are so on point?
Ye phone agar ek baar mein pick nahi kar sakte toh sadak mein fek do.
If you can't pick up the call immediately, throw it on the road. 
Missed your father's call? See your entire life flashing in front of your eyes? Yes, that happens. Before you meet your father, consider praying to God. Only he can save you from this mess. 
Itna mehnga jacket? Isme kya aisi khaas baat hai.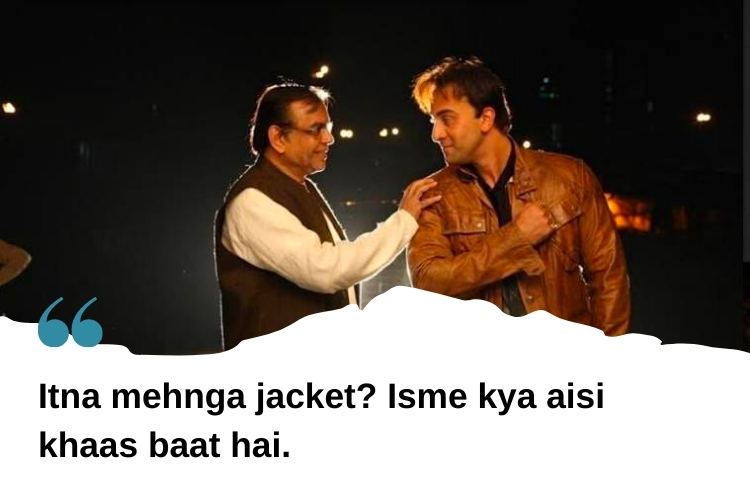 Why is this jacket so costly? What is so special about it? 
Oh, so you bought a jacket for 6800? What is, even so, special about it? Is it studded with diamonds? We love how half the conversation with dads is just them asking questions and us having no answers to them. Have you ever bought something expensive and hid the actual price? If yes, haath milao yaar. 
Itni lights kyu jala rakhi hai, Diwali hai kya?
Why are so many lights on? Is it Diwali today?
We are sure every Indian kid once in their lifetime has heard this when more than one light is switched on in their room. And don't you dare step out of your room, leaving lights open. There will be no force on the earth powerful enough to save you. 
Ha ha lo, mummy se baat karo
Yes, yes, talk to your mom now.
Dads would have a lot to talk about when you are around, but suddenly, when you move to another city, you run out of topics. A minute or two of talking is the phrase that comes up. 
Accha fir ja rahe ho friends ke sath bahar? Tumhare toh ghar mein paer hi nahi tikte.
Oh, so you are going out with friends again? I don't think your feet are meant to stay at home ever. 
Yep, this comes straight flying in your face if you ever decide to have fun two days in a row with your friends. And that is why asking for permission to go out feels like such a big crime. 
Hamare zamane mein hum ek ek paise bacha ke rakhte jo tumhare dadaji hume dete the.
In our time, we used to save every penny your grandfather gave us.
Is it even a conversation with dad if it does not involve a reference to their generation? But their point is right; by the measure, we spend money, we should start saving for unforeseen situations. 
Tum jab baap banoge aur tumhare bacche aisa karenge na tab samjhoge.
When you become a father, and your children will do the same thing, you will understand. 
Okay, why do all Indian fathers have this gun loaded with hurtful comebacks that will destroy them within seconds? But on a serious note, what if they are right?
Nahi nahi hume kuch nahi chahiye, tum bas waha pe apna dhyan rakho
No, we do not need anything; you just take care of yourself there. 
It mushes our hearts to see when you are on a call with your dad in another city, and even though they don't have much to talk about with you, they will just say this. This might be one of the most simple things, but it means so much when it comes from your dad. 
To all the wonderful dads out there, thank you for being amazing, loving, and slightly strict but caring. We love you and wish you a happy father's day from the bottom of our hearts. 
For more such interesting content, follow us on Instagram and Facebook.
Also, read: