Mumbai, the city where dreams are conceived and realized! Mumbai's uniqueness is beyond words, from congested railway platforms to famed Dabbawalas, multi-millionaires to suburban slums, glamorous Bollywood to traditional vada pav, bhel puri, and sev puri. If you're visiting Mumbai, make sure you go to the correct spots to get a sense of the city's vibrant vitality.
To help you out, we've put together a list of some of the most breathtaking sights in Mumbai that will make you fall in love with this opulent city all over again.
Most Happening Places To Visit In Mumbai
Marine Drive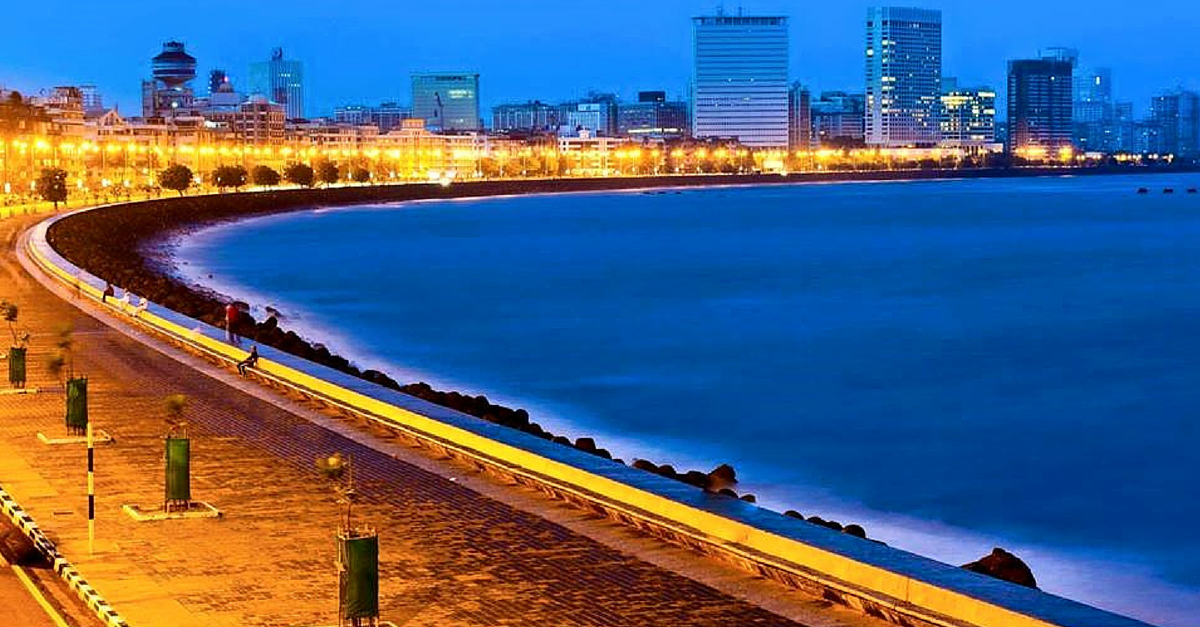 Marine Drive is a popular tourist destination in the city, and residents refer to it as Sonapur. Thousands of tourists flock to this location to walk along the lovely path and take in the breathtaking view of the setting sun at night.
The picturesque splendor of the precisely arranged palm trees provides an exciting experience for visitors. When viewed at night from an elevated location along the drive's course, the street lights give the illusion of a necklace, making the road look like a string of pearls and creating the illusion of a necklace.
Everything feels soothing here, whether it's sipping 'golas,' which kids of all ages enjoy, or simply letting the sea wind in. Marine Drive attracts a large number of visitors after hours, and it is one of the best places to visit in Mumbai at night!
Carter Road Promenade
Carter Route is a scenic seaside road with a lovely promenade. This section of road may not be as well-known or picturesque as Marine Drive, but it more than makes up for it with warmth and comfort. Carter Road is one of Mumbai's affluent neighborhoods, containing some of the city's greatest restaurants, pubs, and cafés, but the promenade is the main attraction.
Everyone is welcome here, and you'll always see walkers, joggers, senior citizens, couples, and even families enjoying the sea breeze and stunning views. There is even a doggy park and a children's play area on the promenade for pet owners.
From time to time, free activities such as musical performances and plays are staged at various sites along the promenade, particularly during the 'Celebrate Bandra' festival.
Red Carpet Wax Museum

Have you ever wanted to stand next to Barack Obama, strike a pose with Michael Jackson, or take a photo with Harry Potter? Yes, you read that correctly. Come to the city of dreams and visit the Red Carpet Wax Museum to realize your dream.
It features lifelike wax models of well-known personalities from a variety of fields, including science, politics, athletics, and international cinema. Take selfies with your favorite celebrity, share them on social media, and make your friends envious.
Horniman Circle Gardens
Horniman Circle is a well-known business district in Mumbai, and it consists of a number of remarkable buildings arranged in a semicircle. The beautiful Horniman Circle Garden is located in the heart of the circular pattern.
The garden itself was conceived in 1869 and completed in 1872. Because of the wonderful paths, the park is well-planned and attracts a lot of fitness enthusiasts and joggers. It's also an excellent spot to simply relax and rejuvenate while surrounded by greenery, assuming you can find an empty bench, as it can get crowded at times. Many cultural programs also are held here occasionally adding to its grandeur ambiance.
Gateway of India

The Gateway of India, sometimes known as "The Taj Mahal of Mumbai," is a must-see attraction in the city. In fact, a vacation to Mumbai isn't complete without a stop at this spectacular monument, which is located on the coastline in the Apollo Bunder district of South Mumbai at the end of Chhatrapati Shivaji Marg.
It was created to mark the arrival of Queen Mary and King George V in the city and currently serves as a famous tourist destination, overlooking the gorgeous Arabian Sea. Plan your visit for either early in the morning to feed the pigeons that frequent the area, or later in the evening when the monument is illuminated by the setting sun's glittering rays.
The magnificence of the enormous structure is complemented by the beauty of the Mumbai port, creating a picture-perfect scenario. Seeing its ageless building, without a doubt, brings your visit to the beautiful metropolis to a close.
Chota Kashmir
Ask any of Mumbai's old-timers or those who grew up before the age of social media and smartphones about school or family picnics at Aarey Colony's Chota Kashmir Park, and chances are they'll recollect. This is one of the city's best-kept secrets, providing a green oasis for those who live in the concrete jungle.
The park is an important part of Mumbai's history, and it even has a tree planted by Dr. Rajendra Prasad, the country's first president. The park boasts a variety of trees and plants, lovely flowers, manicured lawns, and tree-shaded walks, making it ideal for picnics and relaxing afternoons.
It is also home to some rabbits and a section of the park also has joyrides and amusement rides for children. The adjacent lake also offers boating activities.
Chhatrapati Shivaji Terminus (CST)

Another UNESCO World Heritage Site is Chatrapati Shivaji Terminus, which is located in the center of Mumbai. This structure, which was built in 1888 during the British colonial period, represents the Victorian-Gothic style of architecture.
Don't forget to take a photo with your family and children while you're here. And, behind the Taj Mahal, the beautiful CST is India's most photographed structure! After you've finished exploring, don't forget to treat yourself and your loved ones to some delectable cuisine. Mumbai has everything, whether you're seeking affordable eateries, sophisticated dining, or buffets.
Siddhivinayak Temple

Mumbai has always been a hospitable place for people of many faiths and cultures. A multitude of popular mosques, temples, and churches are available to comfort your soul. Siddhivinayak Temple is without a doubt one of Mumbai's most popular tourist attractions. This temple, dedicated to Lord Ganesha, was built in 1801, and it invites worshipers from all walks of life. The temple complex is 6-stories tall, with gold-plated domes, a statue of Lord Ganesha, and much more to leave you speechless. You might even run into a Bollywood celebrity if you're lucky, as most of them stop by this shrine before commencing a new project.
David Sassoon Library & Reading Room
The David Sassoon Library was created in 1847 and the exquisite structure that houses it was erected in 1870. It was the first building to be built on the Esplanade, appearing soon before Crawford Market. The heritage structure is a landmark in South Mumbai, and its interiors are much more captivating than it is on the exterior.
With its dimly lighted lobby, pictures of old Bombay, vintage lamps and chandeliers, arched entrances, and a winding staircase rising to the top levels, entering the library is like going back in time. Yes, this is an ideal location for bookworms, as you can read in the garden or on the library terrace.
The library was named to the list of 47 classical libraries of the world in 2006, with over 40,000 books in English, Marathi, Hindi, and Gujarati. It's also a historical site, with works by prominent figures such as Dr. Babasaheb Ambedkar and Mr. Nani Palkhiwala influencing the minds of others.
Chowpatty Beach 

This beach has a distinct personality that will entice you to return more than once. During the Ganesh Chaturthi celebration, when the entire beach is lit up in a festive atmosphere, it's a sight to behold. People come from all around the city, there are food stalls put up all along the beach, and big Ganesha idols are submerged in the sea.
Chowpatty Beach offers a variety of entertaining activities, including rides on the Merry-Go-Round and the Ferris Wheel, as well as snake charmers and street performers. If you visit this beach, don't forget to taste the famed 'bhelpuri,' since delicious food is always a plus.
And there you go! With these places on your bucket list, we assure you you've witnessed multiple shades.
For more such interesting content, follow us on Instagram and Facebook.
Also, read: