We, as a country, are known for being tolerant and welcoming. The Constitution defines India to be a sovereign, socialist, secular, democratic, republic country but we have failed the framers of the Constitution.
The heartbreaking reaction of a group of people only puts us in a bad light and shows that we are failing to change ourselves with the changing times. Here are 9 ads that show the age of advertising intolerance in India.
Sabyasachi's Mangalsutra Advertisement
The most loving thing about the advertisement is the amount of inclusivity it has portrayed on screen in just a few minutes. People of all different sex and gender came together to adorn themselves with the beautifully crafted gender-neutral "Mangalsutras" and give out a message in the world that love knows no obligations or cannot adhere to the external manifestations of society. "Mangalsutra" is usually associated with a woman, and "modest and socially accepted clothing for women" was carefully coordinated with western wear.
Also, it was a delight to see men adorn themselves with a "Mangalsutra" and announce to the world that it is okay for them to want protection or show affection towards the people they love.              
The advertisement received a positive response initially but a lot of tension started to build around it as time passed. A section of people started to diss the designer and his company for 'mocking' a Hindu custom and assaulting the sanctity of the age-old custom. The situation was so heated up that the designer had to pull down the advertisement to save himself and the people associated with this project.
Dabur Fem Karva Chauth Advertisement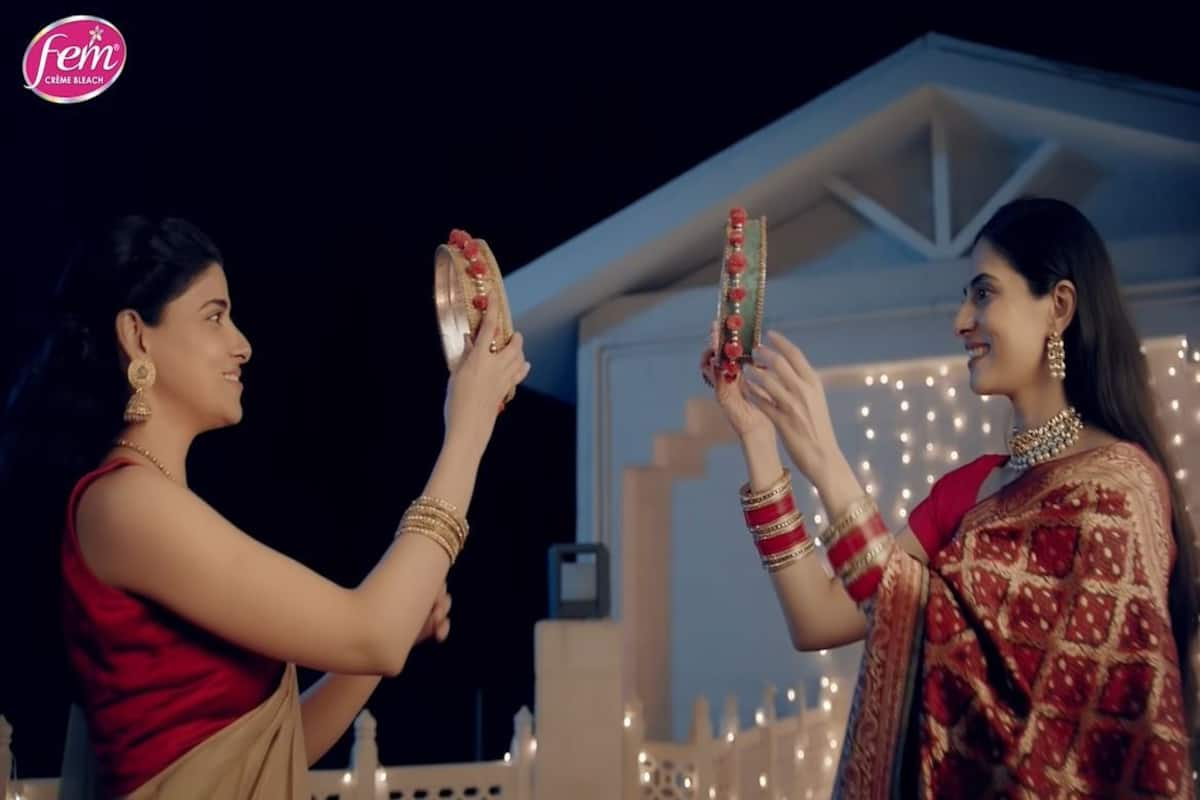 Another advertisement that speaks for the queer community and feminism at the same time has unfortunately received a lot of backlash from society. The advertisement shows two women helping each other get ready for the rituals of the day. Their family is supportive of their relationship and wishes only the best for them.
The advertisement has received love and hates proportionately. Representation at such a huge scale felt like a triumph for the LGBTQ+ community but the 'cishet community' did not receive it well. Again, the religious sentiments were hurt and people took to social media to portray their discontentment.
Fab India's Jashn-e-Riwaz Advertisement
Fab India is one of the most celebrated clothing lines in India. It is known for its beautiful collection of traditional and Indo-Western dresses. Recently, they posted an advertisement that very graciously highlighted the multi-cultural nature of Indian society. The advertisement in one word is beautiful and heart-touching. It portrays the feelings of homecoming, love for one's motherland, and the nuances of young love amidst the rich background of our society.
Traditions have always been an important aspect of our lives and we will always love and cherish them. However, the controversy around this advertisement began to gather force when people took to social media to convey their disregard for the title that had been used for the promotion of their latest collection. Fab India introduced their Diwali collection under the title, "Jashn-e-Riwaz" which translates to "a celebration of traditions". Islamization of Hindu festivals is all that the people feared.
Kanyadaan Bridal-wear Advertisement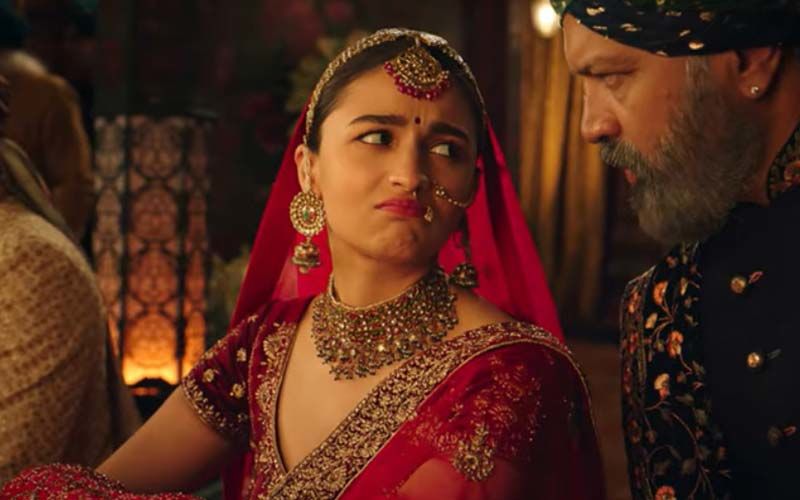 This advertisement comes from Mohey, a bridal-wear line in India. It speaks of how a girl is as much a part of the family as anyone else and she is not meant to be given off to someone else in the process of marriage. The advertisement has beautifully highlighted some of the stereotypes present in our society
It introduces us to a beautiful concept of "Kanyamaan", that is, we should not give her away but give her the space to create a respectable place for her in the society where she can continue to live a happy married life.
However, people seem to have a problem with this notion as well. Many have been seen using hashtags to promote the boycotting of dresses from this clothing line and are moral policing anyone who is trying to explain the message of this advertisement. The Brahminical section of the society could not see any good in this whole concept and requested everyone to show 'minimum respect' towards their religion.
Tanishq Advertisement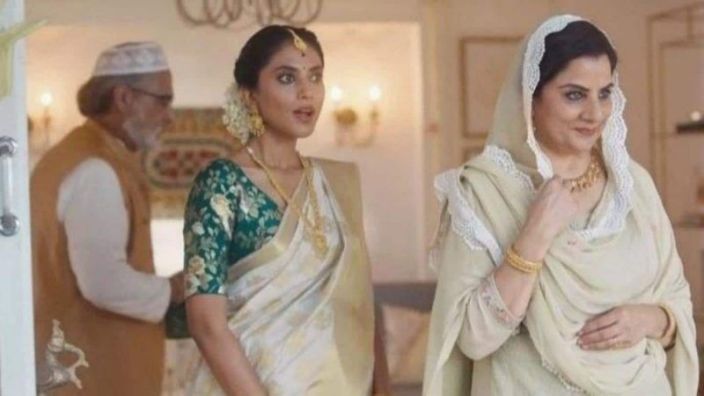 Tanishq tried to experiment with the concept of inter-faith marriage in India. The advertisement portrayed the beautiful amalgamation of the Hindu and Muslim religions. A Hindu girl married into a Muslim family is expecting a child and her mother-in-law arranges a baby shower for her according to the Hindu traditions. She was surprised and grateful at the same time for having married into such a family.
However, people could not see the bright side of this advertisement which promoted the concept of 'Unity in Diversity' and began to bash the company for promoting "love jihad". The backlash they received is beyond imagination and horrifying. People using the hashtag "boycott Tanishq" only hints at the fact we have to work a lot collectively as a society.
Surf Excel Holi Advertisement
The Surf Excel Holi Advertisement portrays the spirit of Holi and the love that people share especially on that day. A little girl comes out of her home in white clothes and challenges the kids of the lane to drench her in colors if they can! They instantly take up the challenge and put all the color they have on her.
A while later she calls her friend and gives him a lift to the mosque so that he could take part in the "Namaaz". They both agree to play after he returns from the mosque.
This is probably one of the sweetest advertisements that one can see.
However, it was not well received by the people and thought that Hindu festivities are being pulled down or made fun of.
Red Label artisan Advertisement
This advertisement takes place in Maharashtra probably. A man goes to buy an idol of Lord Ganesha for "Ganesh Chaturthi". He meets the artisan and is amazed by the amount of knowledge he has about Lord Ganesha and Hindu mythology in all. However, the tables turn when the "Azaan" begins to play in a nearby mosque and the artist takes out his cap to pay or show reverence as he belongs to that faith.
The Hindu man troubled by what he witnessed just now, turns around to leave but the man of the shop stops him for a cup of tea. Understanding the fact that the man has pure intentions and only makes idols worship God in every kind, he decides to take one of the idols home.
The advertisement is inspired by a true story and has won awards as well. Some people saw this advertisement to be a portrayal of the non-tolerant side of Hindus as they hesitated once to buy.
Amitabh Bachchan Pan Masala Advertisement
Amitabh Bachchan was recently seen promoting "Pan Masala" in an advertisement. One person on social media commented saying that these kinds of advertisements should not be done by a man of his stature and that society expects better from him. Replying to this, Mr. Bachchan said that this is helping several people along with him earn money and that this is contributing to the greater good.
However, Mr. Bachchan has recently walked out of this contract as he is the government ambassador of pulse polio vaccination.
BYJU's Shah Rukh Khan Advertisement controversy
Shah Rukh Khan's son, Aryan Khan, got involved in a drug case controversy and BYJU's stalled all their advertisements that featured Shah Rukh Khan. Is that a mere coincidence?
This is not the country Gandhiji or B.R. Ambedkar dreamt of. There is still time and we can rectify ourselves through collective action and by spreading awareness.
For more such interesting content, follow us on Instagram and Facebook.