Doll Horror Movies, a genre introduced to horror fans with the 1929 film, The Great Gabbo, has turned out to be a very popular genre over the years. Creepy, scary, and mysterious dolls are seen to enhance the horror factor of the films. Though introduced in 1929, these movies got popularised with the movie Child's Play(1988). Mostly killer dolls are associated with children in the film and are linked with phenomena like satanic powers, black magic, and spirit possession. 
What do you think of on hearing Doll Horror Movies? Let me guess, Conjuring? Chucky? Or it can even be Papi Gudia. Well, Doll horror movies are much more diverse and scarier than these. And thus for you to explore, we have brought to you, 9 Creepy Doll Horror Movies That You Should Watch But At Your Own Risk!
9 Creepy Doll Horror Movies That You Should Watch
But At Your Own Risk
Annabelle (2014)
Starring Annabelle Wallis and Ward Horton, this has been one of the most popular Doll Horror movies. The film revolves around a couple who begin to face sudden ghostly ordeals as a doll gets possessed by demonic spirits.
As part of the Conjuring series, this film decently introduces the scary, creepy, and spine-chilling Annabelle to horror fans. If you are beginning with Doll Horror movies, Annabelle can be a good start. 
M3GAN (2022)
Unsettling, creepy, and intriguing can be said to describe this 2022 doll horror movie. Directed by Gerard Johnstone, M3GAN encapsulates the mysteries of an AI doll as she is assigned to care for an orphan girl.
The film got popular for its original and intriguing storyline mixed with some amazing production and visuals. However, the horror factor might feel lacking in the film overall. But that doesn't make the film less surprising and will certainly keep you on the edge of your seat. 
Also, read:
The Boy (2016)
Standing out from the mainstream horror movie cliches, The Boy is one of the most splendid doll horror films ever. Based on an American Nanny who has been asked to babysit a doll, this movie slowly unveils the dark mysteries and terrors to be faced by her. Unlike other doll horror films, the Boy will keep you captivated throughout with its plot, character developments, and creepy visuals.
Directed by William Brent Bell, The Boy has an IMDb rating of 6.0. You should surely watch this film if you wanna get your mind baffled and enjoy some horror together. 
Brahms: The Boy II (2020)
A sequel to the 2016 movie The Boy, Brahms: The Boy II unravels some deep and ghastly mysteries of the porcelain doll. The film portrays a family traumatized by a burglary and shifting to the countryside, unaware of the horrifying occurrences waiting for them.
Though the storyline was original, like its prequel, this doll horror film failed to match the creepy level of the first part. Despite some creepy and intriguing visuals, both fans and critics found certain jump sacres excessive and futile.
Suddenly In The Dark (1981)
This 1981 Horror erotic Korean film will certainly not fail to chill your spine. Based on a weird wooden doll that a housekeeper brought into the family, this Korean Doll horror movie is as thrilling as it is terrifying. Slowly unraveling the satanic powers of the doll, this movie gets weirdly creepy in some instances. With an IMDb rating of 6.6, this movie is quite popular among horror fans. Though we highly recommend this creepy movie, watch it at your own risk. 
Poltergeist (2015)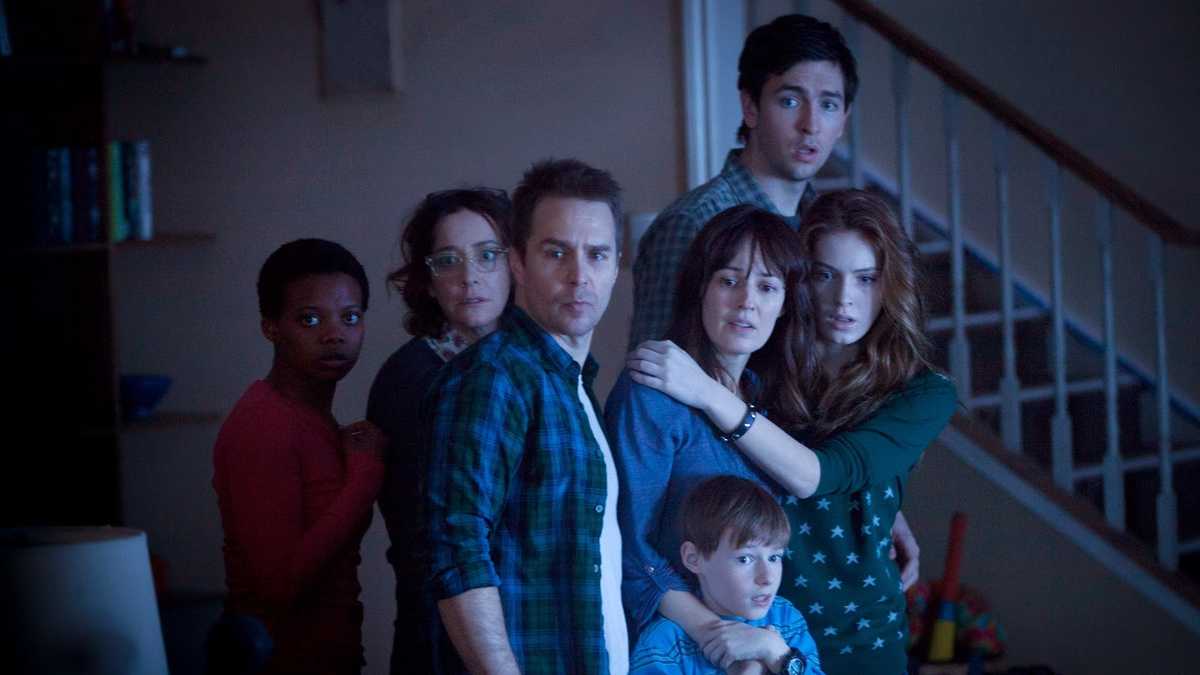 Being the remake of the 1982 classic, Poltergeist, this Gil Kenan film was one of the most counted on horror movies. Adapting from the original storyline, this film portrays the Bowen family as they shift to a new house suddenly occupied by demonic energies as one of their children discovers a box of dolls. With its amazing visuals, this film has enhanced the storyline, making it creepier and scarier.
However, the jump scares have been found to be a bit disproportionate in the film, restraining it from being a successful doll horror film. The fans and critics found it underdelivered as a remake and began a debate about a better Poltergeist.
The Jack in the Box(2019)
Directed by Lawrence Fowler, The Jack in the Box is one of the creepiest and most much-anticipated doll horror films. Encapsulating the story of Casey Reynolds, who establishes a link between a scary vintage clown and the supernatural deaths of his museum co-workers, this film will certainly keep you on the edge of your seats.
Though the storyline is quite thrilling, the film might seem a little slow in some instances. Despite being very creepy and scary, the cinematography could have been a bit more captivating. Overall, this Lawrence Fowler film, starring Ethan Taylor, is a good yet scary watch! 
Bride of Chucky (1998)
Being the fourth chapter of the Child's Play franchise, this 1998 Doll horror movie became popular for being atrocious and funny at the same time. The film revolves around the remains of Chucky, that Tiffany reincarnated, and later Tiffany was killed to possess another puppet so that they can continue their crime.
This 1998 horror metafiction with some amazing instances of black comedy was well-received by horror fans. If you are looking for something that can scare you and make you laugh, Bride of Chucky is for you!  
Robert (2015)
When an old housekeeper gets fired, he hands an ugly doll to the family's boy, where the doll horror movie Robert begins. As the story proceeds, the satanic doll starts its destruction. The storyline is similar to most doll-centric horror films and fails to captivate the viewers. With Flynn Allen, Suzie Garton, and others starring in the cast, this film has been abortive in creating a spine-chilling effect with its visuals and plot. Some supernatural instances could have been more effective hadn't the acting has been so much absurd.
We highly recommend you watch these scary films but watch them at Your Own Risk! 
For more such interesting content, follow us on Instagram and Facebook.