Some movies are known for great stories, while some are for great dialogues; one such movie is 83, which is known for its dialogues. We have compiled some of the dialogues from 83 that will invoke the winning spirit inside you.
The movie 83 dropped into the OTT world a few months ago on Netflix and Hotstar. The biographical film based on the Indian National cricket team, led by Kapil Dev, at the 1983 world cup was immensely loved by critics and audiences alike for the tremendous performances by the cast, brilliant screenplay, and crisp direction. 
Another thing that the audience loved was the dialogue from 83. From funny to motivational, 83 has some memorable dialogues that will stay with us for a long time.
Dialogues From 83 That Invoke That Winning Spirit
35 saal pehle hum log aazaadi jeete, magar izzat jeetna abhi baaki hai kaptaan.
Ground ke bahar hamare life mein kuch bhi ho raha ho jab hum yeh uniform pehenkar ground mein utarte hain toh humara ek hi maqsad hota hai jaan lagake desh ke liye khelna.
West Indies ne koi statement vatement nahi diya. Bass jawab mein 2 world cup Jeet chuke. Hamari cricket ko hi hamara jawab dena hoga.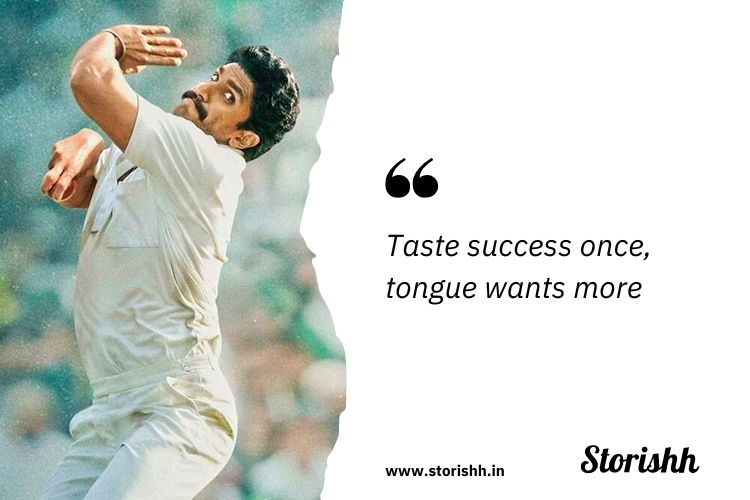 Taste success once, tongue wants more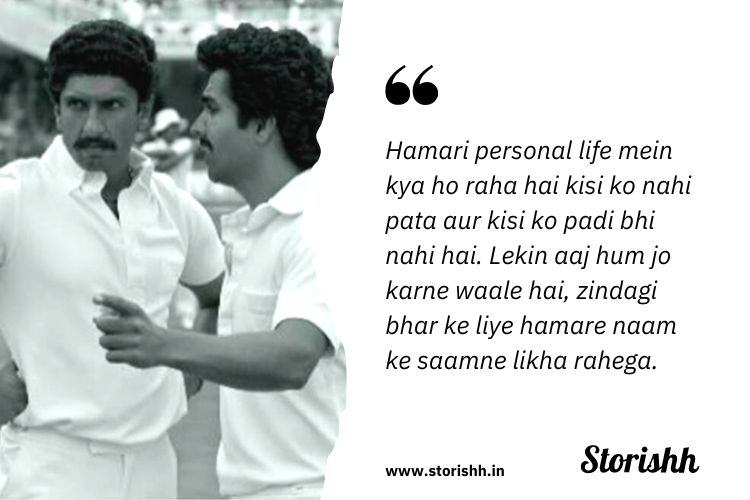 Hamari personal life mein kya ho raha hai kisi ko nahi pata aur kisi ko padi bhi nahi hai. Lekin aaj hum jo karne waale hai, zindagi bhar ke liye hamare naam ke saamne likha rahega.
Also, read:
Haar jeet sirf scoreboard par dikhni chahiye, aankhon mein nahi.
We here to win. What else we here for?
Few More Dialogues from 83 movies
Kal bada match hai na? – Romi

it's a do and die. – Kapil Dev

You mean Do or die? – Romi

Haa Jo bhi. – Kapil Dev
I say before….We here to win.
Have you watched the 83 movie for its great dialogue? If yes, then do let us know in the comments what your favorite dialogues from 83 are.
Check out our Instagram for more 83 movie dialogues:
View this post on Instagram
For more such interesting content, follow us on Instagram and Facebook.