Disney Pixar is known for making some amazing animated films, right from Cars to The Toy Story. First released in August 2018, SparkShorts is an initiative by Pixar's encouraging their artists to make stories based on their real experiences. This has brought us some of the most impressive short animated films.
All the films are available on Disney+ Hotstar, and some are also on Pixar's official Youtube Channel.
Loop (IMDB Rating 6.8)
Image: Loop/Pixar Animation Studios
Released on 10th January 2020, Loop is a beautiful short featuring a spontaneous and talkative boy Marcus and an autistic, non-verbal girl Renee and their participation as canoeing partners where both of them understand a lot of things about each other.
Directed and Written by Erica Milsom, this film portrays both the characters' perspectives in a very realistic manner. It elegantly shows every detail about autistic children, from their love for music to their repetitive nature of using hands to communicate. This film has perfectly described its motto, "Communication always need not be verbal."
Purl (IMDB Rating 7.1)
Image: Purl/Pixar Animation Studios
Describing the experience of working as the only woman in a workplace, Kristen Lestor wonderfully penned down 'Purl.' This short revolves around a ball of yarn as she starts working in a male-dominated finance company and her attempts just to fit in with her colleagues.
The animators have perfectly designed the workplace, giving some fun and colorful vibes. With instances like laughing at colleagues' lame jokes and adjusting in a male-centric atmosphere, the story interestingly portrays its motive of "Not losing ourselves for fitting in somewhere!"
Wind (IMDB Rating 7.1)
Image: Wind/Pixar Animation Studios
Written as to honor his Grandmother, Edwin Chang's Wind can be said to be an analogy to immigration. Released in 2019, this Pixar short illustrates the story of a grandmother and grandson who are shown to be trapped in a dark world. The plot is set in a dark place with floating debris and unused objects. The boy plans to make a way to reach the top where a speck of light can be seen and get rid of the darkness.
He finally makes a rocket, but it can only take one person. His grandmother decides to sacrifice, and the boy finally gets out of that place. Though this short ends on a sad note, it highlights the sacrifices made by our loved ones only to make us happy!
Nona (IMDB Rating 7.3)
Image: Nona/Pixar Animation Studios
Nona is yet another tale of love shared by children and grandparents but with a different approach. Nona is a grandmother who loves to watch wrestling. She is surprisingly interrupted by her granddaughter Renee on an important matchday. The film thus shows the conflicts Nona had to face to watch the match and take care of Renee.
Written by Louis Gonzales, this story depicts his bond with his grandmother. Beautiful artwork and amazing animation have taken Louis' storytelling to the next level!
Float (IMDB Rating 7.3)
Image: Float/Pixar Animation Studios
Float is a story of a father and a specially-abled son. Written by Bobby Rubio, this short goes around the son's ability, Alex, to float and his father's attempts to hide his son from the world. As Alex grows up, he can no longer be kept hidden, and thus his father makes the final choice.
This movie is based on director Bobby's son, who is on the autism spectrum, regarding which Bobby Rubio said, 'I couldn't handle this properly.' Thus he decided to narrate his story using his beautiful art! The story has been elegantly illustrated and has perfectly interpreted its intent.
Twenty Something (IMDB Rating 7.7)
Image: Twenty Something/Pixar Animation Studios
Being an adult is often filled with anxiousness and doubts. Personifying such emotions, Aphton Corbin drafted this amazing story, Twenty Something. Adult Gia is portrayed as her younger selves who pile on each other and visit a club with her sister. She is afraid of her adulthood and thus makes chaos in certain instances. 
Portraying three younger versions of Gia is a very interesting way of highlighting the inner child. Aphton and the team have elegantly illustrated the story thus perfectly annotating their view, "We all have a childish self hiding in us."
Out (IMDB Rating 7.5)
Image: Out/Pixar Animation Studios
It is often difficult for most of us to talk our hearts in front of our parents. A similar difficulty is faced by Greg who recently moved out to a new place with his boyfriend, Manuel. Suddenly visited by his parents, Greg tries to hide his truth. The story has a magical twist when Greg gets swapped with his dog. 
Written and directed by Steven Hunter, this is Pixar's first film to feature a gay lead. This beautiful Short was listed for the Academy Award for Best Animated Short Film at the 93rd Academy Awards.
Kitbull (IMDB Rating 8.8)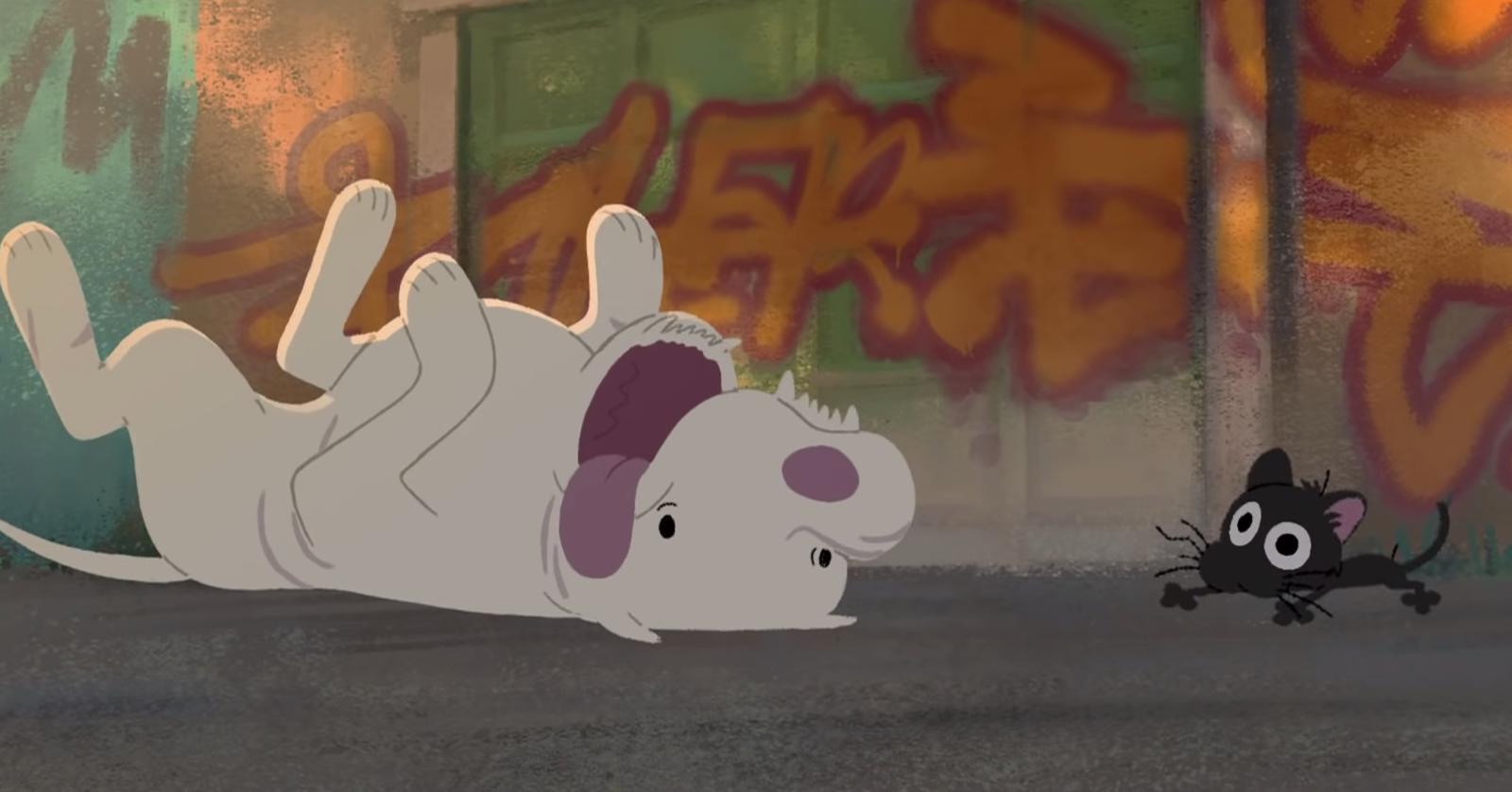 Image: Kitbull/Pixar Animation Studios
Portraying the friendship of a cat and a bulldog, Kitbull is one of the most loved shorts. The cat plays the role of an introverted person who prefers to stay in his comfort zone. It scares the cat when it comes across the bulldog. As the story advances, their friendship evolves and both of them come closer to each other.
Written by Rosana Sullivan, this story creates an awareness of protecting stray animals. Kitbull was nominated for the Academy Award for Best Animated Short Film for its vibrant animation and beautiful storyline at the 92nd Academy Awards.
These animated films from Pixar are mostly for kids but have some deep messages for each of us. Sensitive issues of our society have indeed been gracefully crafted by each director, making SparkShorts a great initiative for Pixar.
Let us know your favorite film from Pixars in the comments below and for more such interesting content, follow us on Instagram and Facebook.
Also, Read: